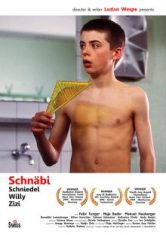 Having to choose between friends and a beautiful girl is almost a universal Coming-of-Age experience. So many factors influence the decision – confusion, peer pressure and, last but not least, feelings. That dilemma is presented with some humour in Luzius Wespe's 2006 short film Willy (original title Schnäbi).
Willy was produced in Switzerland and, as a result, one gets to enjoy the sincere approach to Coming-of-Age experiences that is a trademark in the Scandinavian cinema (Switzerland is not a Scandinavian country, but it's close enough and I mention this for the purpose of comparability).
The protagonist is the 14-year-old Leander (Felix Tunger) who has a crush on a girl classmate. When the boys from his class discover the teenager's crush, they decide to play a prank on him, which puts him in an odd situation in front of the girl he likes. He makes the best of it, as you'll discover when you watch the film, but it's a funny, sincere and (based on my own experiences) accurate enough portrayal of the tension between the sexes as well as peer pressure.
An enjoyable watch.  Recommended!