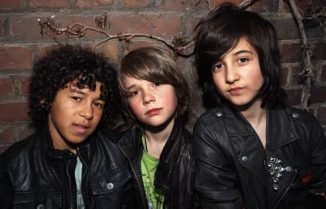 The Apollo 3 mania is spreading around the world. When I introduced them at theSkyKid.com I was not even able to imagine that they would become that famous in such a short time.  Currently the postI wrote about them has been seen by more than 1400 people – 53 people left comments – most of them fan girls who would do everything to get more information about their favorite band.  The Apollo 3 single made most of their fans – me including – excited and impatient for the release of their first album – and now it became available at Amazon.comand variety of other retailers . The management of Apollo 3 is doing miracles in promoting the band – and even you can show their support by voting for their song at Viva.tv or by buying the single or / and the album. One thing they lack – is enough information about them – being available in English – which is a must for every band nowadays especially if the word about it spreads so fast.  That gap is being  filed by me ( the post is available in Russian as well ) .  Of course I could not ignore the huge interest to Apollo 3 and would try to give you some insights of what you can expect from the album.
httpv://www.youtube.com/watch?v=mNR2hWyFrAs
Starting with the basics – the album has 14 songs :
1. Countdown – a cool space intro of the album. It is just that – not a song – but I tend to like it.  Gil Ofarim used to have similar intros to his albums
2. Startschuss – the song was familiar with me – probably because it was included in the single as Time Machine Mix-  which also included the songs Adrenalin,Warum and Keine Angst vor euch. Its a great song and the lyrics can be picked up easily – which makes singing along a great experience ( :
3.Superhelden – I have written all about the single " Superhelden " in my previous post about Apollo – there you can also watch its video clip. I would just confirm once again that listening to it while cycling or hanging out by the skate ramps totally rocks .
4. Wir sind– a ballad like song , perfect for the nights by the beach .
5. Brich mein Herz – I liked the rhythm in that song . It also had some great digital sound effects
6. Adrenalin – my favorite song of the album. So full with energy that I can`t believe that someone could listen to it calmly – perfect for all kinds of extreme sports . My little cousin adores is as well ( he is into Parkour)
7. Warum – now " Warum " is my favorite word in German. In the courses I took before someone said it in one of those audio recordings you have to listen and I immediately picked it. The song is good – and their voices sound really cool – I imagine that the girls must be going crazy while listening to " Warum " – it`s just this kind of song .
8. Boese – for the rap fans – so they are into rap music in addition to rockers . Boese is one of those songs that tends to stick to your mind – and they even sing a bit in English ( talk rather ) .
9. Wie ein Komet – after all the band members of Apollo 3 are just boys – and this is the most boyish song of the album.
10. Verliebt – a special song for all the girls in love with Apollo 3 – you know who you are .
11 . Kein Ding – I can`t recall the style of this song – but it had a totally different sounding than the rest of the songs in the album.  It is something like Hip- Hop I guess – in fact reminded me of Othenic O – typical German rap vibe.
12.  Keine Angst vor Euch – rock and roll baby . Super coool song .
13.Fuer Dich– yet another ballad . Loved it !
14. Licht aus – rap song …a bit weird …
So that`s my first impressions – I would love if you share yours in the comments . At the same time please avoid comments which look like " Henry du bist soooooooooooooooooooooooo cooooll " – this has been said and I am sure that the band would like to read something more constructive – in order to see how their album is being accepted . The boys gave it all  – Henry performed the song from heart and would amaze you with his incredible voice .  Marvin, who is MC, gives the tracks with his tremendous stylistic rap coolness. And Dario, with his razor-sharp and tons heavy guitar riffs for the rock Adrenalin factor.
Apollo 3 – Three guys, one mission.