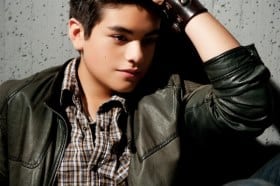 Charlie Green, the boy who in 2008 charmed the musical pants off a nation in Britain's Got Talent, will turn 17 on February 16, 2014!
Born in 1997 to an English father and a Filipino/Spanish mom, Charlie spooned out tunes way before his talent show breakthrough.
At the age of five, he sang at the Royal Opera House and, at age eight, at St. James Palace! In 2007, Cedric Whitehouse produced a song, Hands Around the World with Charlie, to increase muscular dystrophy awareness.
All of the above are remarkable achievements by themselves, for one so young. But then, on May 19, 2008, Charlie broke onto the world scene on the widely televised talent show, with his version of Sinatra's Summerwind. What a surprise to hear this small boy singing an American Songbook Classic in a bright clear, smooth voice  — confident of his audience like an experienced nightclub singer or, as one fan commented, like "a li'l Michael Buble."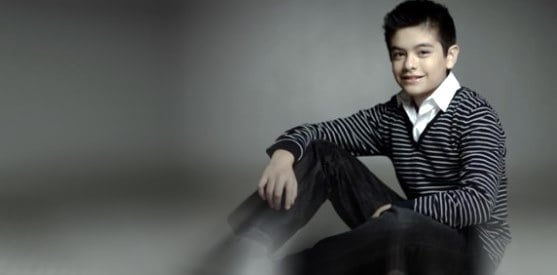 Even though Charlie did not win the contest, he became an overnight celebrity and new venues opened to him. Charlie's YouTube zoomed to 4 million hits, and performances at Bridgewater Hall (Manchester), Fairfield Hall (Croydon) and the Symphony Hall in Birmingham followed.
STAR RECORDS produced his debut album Charlie Green, and then he was off on a promo tour throughout Asia, which saw him appear on 15 TV shows and the Pinoy Dream Academy. In 2008, Charlie also acted in a short film called Waiting in Rhyme,  in which he rapped his lines. He received a talent award from the National Music Museum.
Charlie Green – Stars (Live in Manila)
From August 10th of that year, my favourite Charlie Green video was recorded on a wobbly hand-held camera. Throughout that video, the audience is unruly and loud but, undaunted, we hear Green deliver a determined, magnificent version of Stars from Les Miserables. His shining dark eyes fixed on the heavens, his concentration sealed, Charlie holds the final notes to thunderous applause.
In 2009, a tour to 14 major American cities followed — including Los Angeles, Las Vegas, Chicago And San Francisco.
There were more accolades the next year. The AWIT Awards in the Philippines (the equivalent to the Grammy Awards in the US) gave him three awards,  including Best Jazz Recording Artiste  (for another one of my favourites, Momma Said So – written by Richard Poon), Best Performance by a New Male Artiste and Best Performance by a Child Artiste.
In 2010, Charlie also brought out his second album, A Friend Like You.
More touring took him to China and Japan, and then — in 2012 — another album was released called Rainbow.
It's at this point where we start to leave Charlie's smiling, joyful childhood behind. He was growing up. To assist with his new voice, Charlie brought in voice coach Gillyanne Kayes. In October of 2012, the choreographed spunky video Liquid Ice appeared. The video shows Charlie moving in sync with a small group — a dramatic change from his earlier days' static stand-up singer.
Charlie, who lives in Droitwich, Worcestershire, already had an amazing childhood career behind him. To take a tour through Charlie's videos is also to watch him transform into a teenager, leaving that cute-kid skin behind. This is most apparent to me when watching the older Charlie sing Lost (June 2013) with The Old Sills Band. Here is a new smooth voice, already fairly deep, still charming but without the beaming boy's bravado; rather with a young man's steady, new-lived virtuosity.
Having only recently met Charlie online, I get the impression he's a friendly, fun-loving, modest guy.
Teen infatuation is the theme of Rainbow (2012), which I find somewhat conservative, but then Charlie has been singing older R+B tunes for some time, like a piano lounge or night club performer. For example, in My World, written by Cedric Whitehouse, he practically sings his childhood credo — the longing for a better, more harmonious, caring world.
Charlie Green (Liquid Ice)
So how Charlie presents himself musically in the next few years will be interesting! The style of a Frank Sinatra, Bing Crosby or Andy Williams, in a young singer, will certainly appeal to an older generation. But a break with that classic ShowTime singer style could lead him somewhere new.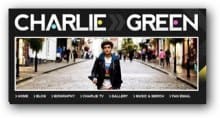 Charlie is currently recording a new album, and a video of Hey You Girl should appear in April. He will also be touring schools this summer in the UK, according to his homepage. If you visit charliegreenmusic.co.uk you can find much more detail on him. You will also discover that Charlie has his own clothing line called GREEN CREW.
I, for one, am pleased with Charlie Green's mature voice.  His ability to charm audiences has not left him. Embarking on new material will be an exciting challenge for him, and I look forward to being enchanted in the future by this young singer.
                       Best wishes for further success,
rjmendera for theskykid