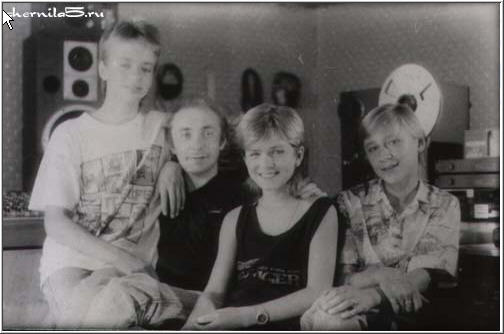 I have been thinking of doing an article about Chernila dlya pyatogo klassa ( Чернила для пятого класса) for quite a while.  The group was formed in 1992 by Sergey Kuznetsov  who is the producer  and composer behind Steklovata ( СТЕКЛОVАТА ) , New Forms ( НОВЫЕ ФОРМЫ ) , Alis and many other well-known formations . Worth mentioning is the soloist of Chernila dlya pyatogo klassa –  Igor Veryaskin who started working with Sergey from the age of twelve  .  Before that he used to sing in a local choir. He appearance in the group video clips is quite memorable . I picked two of my video clips for this entry – but if you like them you will find many at youtube and the official site of Chernila.
My favorite clip :
ya tebe obyavlau voinu
…and another one which always brings smile to my face  :
The music of Chernila is lyric , with a lot of guitar vibes and even saxophone . The group was lucky that soon after its formation they were Sergey found a sponsor which allowed them to establish a studio they can work at.  In the years to come they produced quite a few albums which I enjoy listening to.
Nowadays Igor Veryaskin lives in the capital and composes his own music.
Materials used :
Information about the group at Gosdetstvo.ru , the group`s page at the Sergey Kuznetsov creative studio and the official site of Chernila dlya pyatogo klassa ( which is an excellent resource in terms of music and video clips ). They are fortunate enough to have some information available about them in English including a LastFm profile.