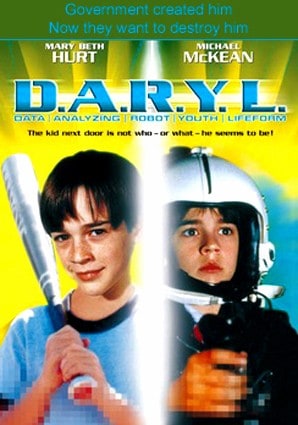 Just saw this science fiction movie and decided to add my 2 cents to the opinions about it online. It is a good movie – for its time anyway ( 1985 ) – and somehow it feels like watching a prototype of Artificial Intelligence with Haley Joel Osmond. The movie has been recommended  to me  by  a friend of mine who is obsessed with aircraft and is found of Barret Spencer Oliver who  played the leading role of an eleven years old boy with artificial brain. I myself am not very familiar with the actor – aside from his role of Bastian in The Neverending story.
Still I think that he did well – and his acting in D.A.R.Y.L deserves a high five. The plot of the movie must have been very innovative for its time – and the movie succeeded to preserve some special appearance even nowadays ( the good movies have no age as we all know). I have to admit that I have seen better movies with similar thematic – but at the same time I am not really familiar with the movies released in the 80`s. ( then I have a favorite  released then – ET). If I am to compare this movie with the most recent released Artificial Intelligence I would pick the second one as it somehow succeed to evoke more emotions in me.
D.A.R.Y.L on its own is a fun movie to watch – but I doubt I will remember much of it ( aside from the acting of Barret). The movie did rises some moral issues – like the one shall anyone destroy a machine if the difference between a man and it can not be seen or sensed ? I think that this would be barbaric – especially when this would involve hurting a youth ( as Daryl in the movie).
See this movie if you can – the enjoyment  is  guaranteed ! In the meantime check out its trailer below :