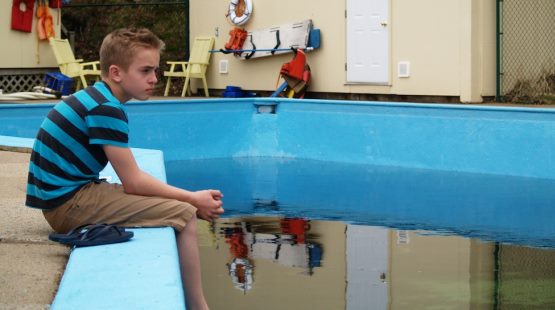 Bailey Maughan as Dane in the 2011 Short Film Deep End
Acceptance – the virtue that becomes more important as we grow up. That virtue is the basis of the 2011 short film Deep End, which is written and directed by Bretten Hannam. The film focuses on a young boy's reaction when his older brother admits to him that he is gay.  That newly found knowledge emerges as a real dilemma for the 13-year-old Dane – who has seen the graffiti on the school walls  and  heard the offensive slang his peers use when referring to people …people like his brother.
Director Bretten Hannan chose an intriguing way to portray the challenge of overcoming the social stigma by focusing on the emotional phases: from confusion, through fear, frustration and finally acceptance. All those phases transform to a real rite of passage for the young boy. The small cast was more than capable and the impact the film has on its viewers is significant thanks to their sensitive acting performances. That being said, I felt that some of the scenes of the film could have been developed more to allow the viewer to grasp their significance.  And while the camera work felt pretty decent, the editing could have been improved with regard to smoother transitions between scenes.
We would like to thank Bretten Hannan for providing a review copy of his film to TheSkyKid.Com.