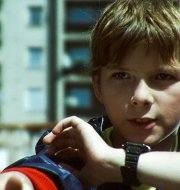 A co-production of Germany and Czechoslovakia, Did Michael Knight End The Cold War? is an intriguing student's short film telling the story of Jachym, a young boy obsessed with the hero of the TV series Knight Rider.
The action is set in the last years of the Communist regime and the film's atmosphere bears a lot of resemblance to films produced in the eastern bloc before 1989, which is likely to evoke nostalgia in some viewers.
The most impressive scenes of the film are the ones focusing on Jachym and his heroic bike stunts. This is due to dramatic camerawork and Indiana Jones themed musical score. The addition of documentary footage helps in setting the film in the proper time frame.
Yet the film's story loses its appeal after a while. This could have been remedied by a better written ending. As it is, one learns little from Did Michael Knight End The Cold War? regarding the changes that brought democracy to Czechoslovakia as the movie only showcases the adventures/mindset of the main protagonist.
The acting is decent and so are the camerawork and the score.  It's just too bad the storyline isn't more captivating.
https://