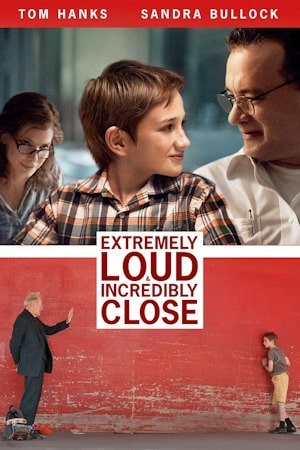 It's a movie about catastrophic loss, and a special child who is somewhere on the autistic spectrum, trying to find his own logic.
Stephen Daldry, Director
Old people, running people, airplanes, tall things, things you can get stuck in, loud things, screaming, crying, people with bad teeth, bags without owners, shoes without owners, children without parents, ringing things, smoking things, people eating meat, people looking up, towers, tunnels, speeding things, loud things, things with lights, things with wings… Bridges make me especially panicky.
Oskar Schell, Protagonist
When 11-year-old Oskar's father dies in The World Trade Center on that senseless, tragic day, he loses not just a parent but the only person who truly understood him. For Oskar is a weird kid: highly intelligent yet socially stunted, given to spouting apocryphal factoids and occasional bursts of verbal diarrhea in his struggle to explain his fearful perception of the world around him. He carries and shakes a tambourine ("to help keep me calm") in times of stress and has no friends to speak of.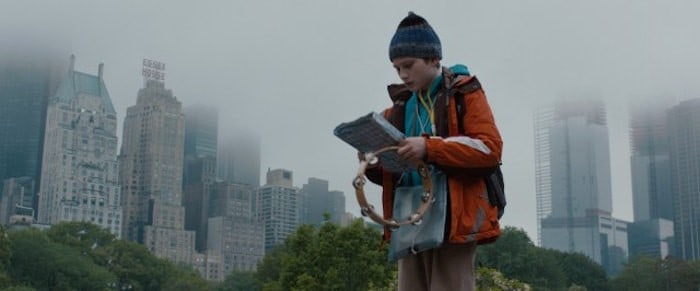 So it comes as little surprise when Oskar reveals that he "got tested once to see if I've got Asperger's disease," though "the tests weren't definitive."
Oskar's beloved father used to send him cryptic treasure-hunt puzzles to encourage the boy's mental agility and to make him get out and meet people. When Oskar finds a key hidden in his father's belongings a year after the tragedy, he becomes convinced that this was his dad's final puzzle and so sets out on a quest to find the lock that the key fits.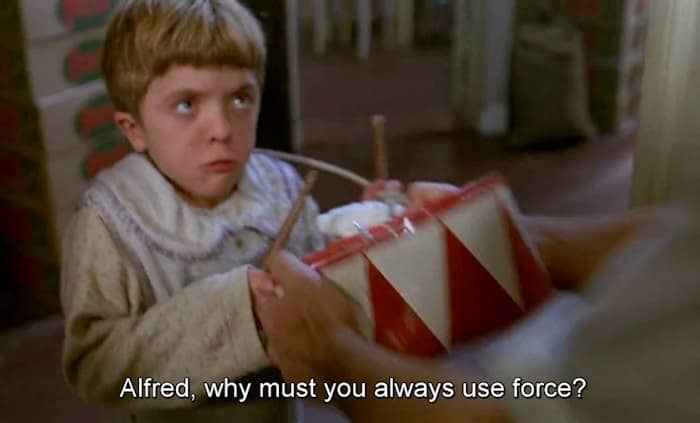 As a lover of films about creepy kids and dysfunctional families, the premise of Extremely Loud resonates clearly for me with another weird boy called Oskar who also witnessed historical tragedy and carried a percussive instrument in Volker Schlöndorff's adaptation of Günter Grass's The Tin Drum. But while both productions caused a fierce division of opinion among critics, and both demand their fair share of belief-suspension from the audience, Extremely Loud is a very different sort of film. Schlöndorff's Oskar was clearly an allegory of childhood trauma. Oskar Schell, as played by Thomas Horn, is a remarkably lifelike depiction of a child on the autistic spectrum who is trying to cope with overpowering grief and, as we discover, guilt.
This is a demanding part to play. It requires deep understanding of the troubled boy's psyche to bring it off with anything approaching credibility. Thomas's portrayal is outstanding (at times scarily so). The empathy and maturity he brings to the subtle nuances between rage, desperation and determination are incredible; it's hard to believe that he had no previous acting experience.
In fact his casting was fortuitous. During the auditions, the production team spotted him taking part in (and ultimately winning) the kids' version of the US TV quiz show Jeopardy! Seeing his potential, they invited him to try out for the part and, in what sounds like something from a contrived Disney plot, they found just the boy they were looking for.
Of course, Thomas doesn't carry the film on his own. The newcomer is ably supported by a strong and experienced cast who deliver beyond expectations. Tom Hanks is excellent as Oskar's father and Sandra Bullock as his mother handles a difficult role well. Of all the characters, hers is perhaps the least credible but she smooths over the cracks in the plot with noble skill.
It's Max von Sydow who steals the adult show, though, as the mysterious mute lodger, striking a memorable balance between sinister and kindly.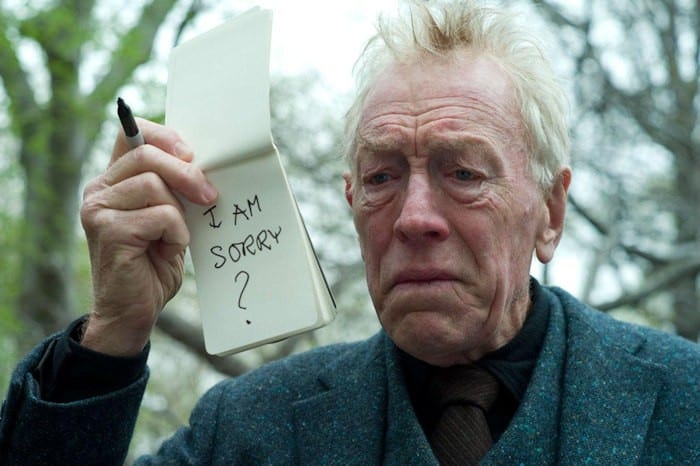 Stephen Daldry's direction shines throughout. There were times when Oskar reminded me of Jamie Bell in Billy Elliot – and there are several parallels: that was Bell's film début at a similar age and both characters are driven by determination in the face of insurmountable odds. It's good to see that Daldry hasn't lost his touch when it comes to directing inexperienced but talented child actors.
Eric Roth's screenplay of Jonathan Safran Foer's story is more complex than it appears on the surface. Just when you think that you've spotted the punchline, it culminates in a series of Shyamalanic plot-twists and faux-fins. In fact, I feel that the narrative quality here puts even M Night's best efforts to shame. His twists can chill the spine, but these twists even wrenched the heart of this seasoned cinematic cynic. Make sure you've got a hanky handy.
There is an unfortunate (and unnecessary) veering towards tear-jerk Hollywood schmaltz at the end, but I found the strength of delivery made it, if not quite invisible, then at least forgiveable.
Trailer
Many critics panned this film, their main contention being that Oskar is simply not likable enough, if at all. And, sure, he can be intensely annoying; he does have tantrums and swear at people; he is hurtful and heartless towards his devoted mother. But I find it hard to see how anyone can fail to melt when the reason underpinning his behavior is finally revealed.
I guess it's all down to whether the viewer can relate to a child-like Oskar. I strongly recommend anyone who hasn't seen Extremely Loud to try it and see.
Personally, I found Oskar adorable; but then bridges make me especially panicky too.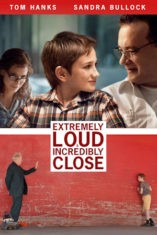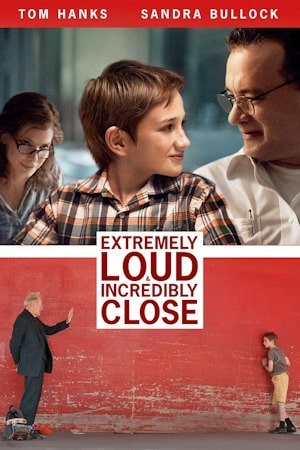 Extremely Loud & Incredibly Close
In short
A story more complex than it appears on the surface featuring Thomas Horn in a remarkably lifelike depiction of a child on the autistic spectrum who is trying to cope with overpowering grief..and more.