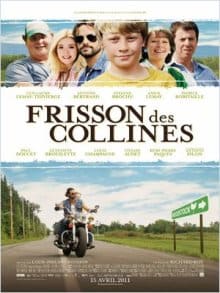 Canadian films can sometimes be confusing, mainly when shot entirely in French. This is very common — not only for movies — but music in Canada, which may make viewers without prior knowledge of a particular film think the action is happening in France. Of course, one could argue that most Canadian films differ from their French counterparts,  which is valid even though they also share some common traits, such as bright colors and the down-to-earth, realistic way the characters are portrayed.
In the Coming-of-Age genre, particularly French-Canadian movies, and especially independent productions, typically offer a genuine and poignant portrayal of children and teenagers' rite of passage experiences.    Léolo (1992), Mon oncle Antoine (1971), C'est pas moi, je le jure! And the more recent Dix et Demi (2010) are just a few examples of movies that most fans of the Coming-of-Age genre know and treasure.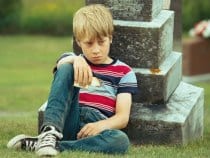 This review will focus on another rite of passage title – the 2011 Richard Roy film Frisson des Collines. The film's main protagonist is the 12- year-old Frisson, who lives happily with his family in a small suburban town in Canada. As the movie begins, Frisson's only worry is his secret crush on his young female teacher. And he's very into music which, thanks to his dad, has an important place in his youthful life. As the action takes place in 1961, that music is Rock and Roll. And, in fact, other than his dad, Frisson's idol is Jimi Hendrix, whose rocking vibes play frequently throughout the film — the perfect soundtrack for a story from that era.
An accident at work takes the life of Frisson's father, and that tragedy turns the world of the little boy upside down. Frisson is overwhelmed with pain but has to be strong for his mother  — whose overwhelming grief endangers her physical existence.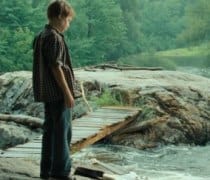 While some of the most poignant scenes of the movie portray the spiritual quest of the young Frisson, who tries to overcome his sorrow, Director Richard Roy avoids the stereotype of similarly themed movies about grief and acceptance by giving the young hero a new goal to perceive: a trip to the Woodstock Festival, which his father once promised. From this point on, the story switches from a drama to an adventure, which does not lack in its comical turns and mischievous actions as Frisson devotes all his thoughts to making plans for how his dream trip could be achieved.
Frisson des Collines Official Trailer
As the story of Frisson des Collines is one of Coming-of-Age, the film owes much of its appeal to the resourceful acting of Antoine Pilon in the role of Frisson. He debuts on the big screen in this film, and he portrays both the dramatic and comedy scenes in such a way that one inevitably associates with his character and sees the moments of one's rite of passage experiences in many of the scenes shown in the film.
Warm saturated colors in Frisson des Collines (2011)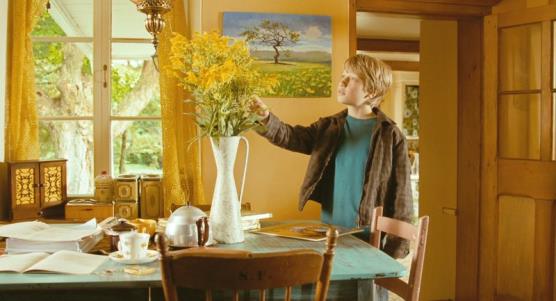 Closely associated with the "Hippie" era,  bright and warm colors dominate the scenes in the movie, and they simultaneously reflect the summer mood of the film. At one point, they mix into psychedelic visions of Frisson dreaming of his trip to Woodstock.
Overall, the film failed to impress me with its story. While I enjoyed the nostalgic feel that radiated from it and the performance of young Antoine Pilon,  I felt like something was lacking — originality of the story is my best guess. My opinion is likely affected by the number of Coming-of-Age films that I watch and review. While most focus on similar stories and experiences, some provoke powerful emotions (Dix et Demi is a perfect example). In contrast, others, such as Frisson des Collines, remain in my mind as a feel-good, family-friendly story I will likely recommend to people who don't typically choose to view Coming-of-Age films at the cinema or on the home DVD.
Film title: Frisson des Collines
Release year: 2011, Les Films Séville, Solofilms
Director: Richard Roy
Cast: Antoine Pilon, Guillaume Lemay-Thivierge, Antoine Bertrand , Evelyne Brochu , Anick Lemay and other