If one has a plan and sticks to it – anything can be accomplished; or can it …?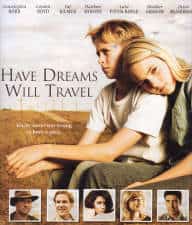 Have Dreams, Will Travel is an American coming of age road movie released in 2007. The film changed its title more than once – and can also be found as West Texas Lullaby and Dream It Out Loud. These changes aim at better reflecting the nature of the story, but result in a greater confusion for the film buffs and the general audience as a whole. The film can be categorized as a drama or romantic comedy as well, and probably the way in which one approaches it will affect the viewing experience.
The film starts its narravtive in the first person, as 12-year-old Benjamin (Cayden Boyd) narrates the story of his life, introducing his parents (preoccupied with their own passions/ hobbies, paying little attention to him).  He addresses the viewer as if speaking to him face to face, while pointing the viewer's attention to various aspects of his life and the personalities of his mother and father.  He feels neglected and fed up with the oddities of his family.
Then one night everything changes…
A severe traffic accident leaves a girl his age, Cassie (AnnaSophia Robb), without  parents. Only she survives and Benjamin's parents agree to take care of her until she recovers. Yet, when that happens, she starts plotting plans about running away, heading to Baltimore to live with her hippie aunt and uncle. Fortunately/unfortunately for Benjamin, he is included in her plans.
Naive and trustful as most small town boys often are, Benjamin is convinced by Cassie to join her in the escape. It doesn't take much – throw in some attitude (which Cassie has a truckload of) and some charming "I like you too" type phrases, and the affectionate youngster is ready to follow her to the end of the world and back.  For the rest of the film, the viewer follows them and their adventures as they cross several states on their way to Baltimore.
The action in Have Dreams, Will Travel takes place in the 1960's and the film possesses that unique atmosphere of the time thanks to the color scheme used, the costumes, props and settings. The props and symbols scattered throughout the film are classic Americana: Dr.Peppers, small towns, farms, the Hardy Boys series, country music and even the people Benjamin and Cassie encounter on their trip. Everything looks fresh off a Norman Rockwell drawing (which probably influenced the film).
The story gets a little bit clichéd and naïve at times, but this doesn't lessen the enjoyment of the movie thanks to the tasteful humor in the story and affectionate smiles on screen. At times, the film seems to be a comedy, drama, or of the road movie genre – while never fully being any one of them.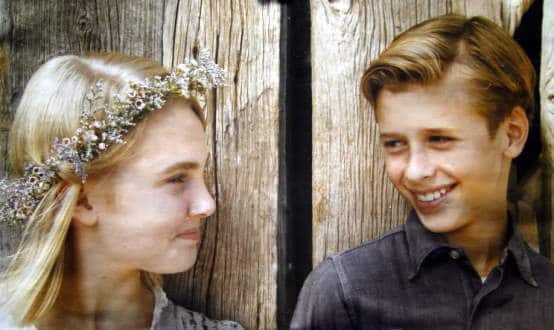 The young leads are wonderful in their performances, judging by the irritation one feels toward Cassie when she starts using expressions and terms that do not only confuse Benjamin, but you are likely to wish there was a dictionary around for the ones she did not care to explain (even it that is rather on rare occasion).  For his part, Cayden Boyd is great portraying this innocent, affectionate southern boy who tries to figure out his life, his parents and now his newfound friend/girlfriend.  At one point he says to her,
"Are you always going to have this attitude? I just want to know."
Have Dreams, Will Travel is an enjoyable coming of age tale, yet the story somehow fails to engage the viewer. It's rather hard to compare it with other films – because even if the story has its message – the manner of delivering it is anything but effective.
Have Dreams, Will Travel (2007)
Conclusion
Have Dreams, Will Travel is an enjoyable coming of age tale. The viewer follows two young people, Benjamin and Cassie, and their adventures, as they cross several states on their escape to Baltimore.