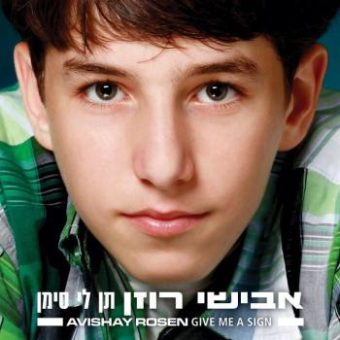 For some weird reason, the Western media pays little attention to the talented young performers from Israel.  One reason might be the choice of the  most young Israelian singers to  perform their songs in their native  Hebrew.
Yet,  one does not have to be a polyglot in order to enjoy a nice song sung by a talented young performer.  Or, as the famous Greek philosopher Plato used to say "… rhythm and harmony find their way into the inward places of the soul".
A month ago, tipped by a boy (@grte1) I follow on Twitter, I discovered the music of Avishay Rosen who is a 13-year-old singer from Israel.  Avishay Rosen  had a head start on his music career thanks to the extensive vocal training he received during the four years he spent singing and performing in the boys' singing group Kinderlach. October 2011 saw the release of his debut album Give Me a Sign (Ten Li Siman), which features 11 upbeat pop-rock songs, some of them composed by Avishay himself.
A musician of many talents, Avishay plays drums, piano and guitar. The extraordinary vocal capabilities of this young Jewish singer helped him to get noticed by and work with some of the most prolific professionals in the music industry in Israel — such as  the producers Uriel Maor and Avi Tal.
Avishay Rosen – Give Me a Sign
The hit singles of Avishay's debut album Give Me a Sign and Avishai are accompanied by wonderfully filmed music videos shot in Jerusalem. Both clips are quite energetic and radiate with positive vibes.  They show to the world an image of Israel that is rarely seen on the newscasts nowadays.
Without any doubt, the future holds great things for this young musician from Israel.