Update : 20/04/2018 – Rutger Garekht wins The Voice Kids Russia !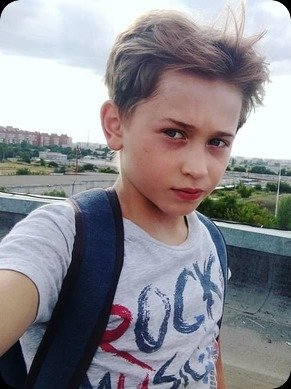 Youth talent aficionados are well aware of the music talent show for children, from 8 to 14 years, called The Voice Kids — and its many international variants. Whether one approves the reality formats or not, they do offer a chance for kids to display their talents to a wilder audience. Now, thanks to the Internet and social media, that audience is often an international one.
We have spotted many performers through the years thanks to those formats and it's time for us to present yet another amazing performer – twelve year old Rutger Garekht(Рутгер Гарехт), participant in the 2018 edition of Golos Deti (the Russian version of The Voice Kids).
Coming from the city of Orenburg (southwest Russia, near the border with Kazakhstan) Rutger (a German name after his father who is from Germany) blew the jury away with his amazing rendition of the Russian song: I recognize the sweet on the walk…
Rutger delivers his performance barefooted, as to better feel the songs' moods and express them. He's achieved great success, turning his act into a whole musical spectacle that awes and is fully capable of capturing a viewer's attention even if one does not understand the language in which the song is being performed.
Coming from a family with an affinity for music (Rutger's two older sisters both have a musical education and play violin), Rutger started dancing and performing from the tender age of five years old, combining his arts education with aerobic and gymnastics classes. He practices with the theater of music and dance "The Nutcracker"(official web site), which annually releases a new musical piece starring their youthful charges – boys and girls of all ages.  One of the theater's vocal coaches, Liudmila Galputdinova, outlines the importance of both vocal abilities and charisma for a performer. He says it's evident, that thanks to his talent and hard work, Rutger has the ability to transmit the emotions and the mood of the songs to the audience in an immaculate manner.
In addition to his rendition at The Voice Kids Russia, one can find other of Rutger's performances on YouTube — such as his cover of the song The Officers (Офицеры), which also impresses with his ability to project his voice using the intonation and accent like artists with a lifetime of stage experience. By visiting his YouTube channel and searching for more clips, one can follow up on the development of his talent – a rewarding experience!
We have been introducing youth talents for more than a decade at TheSkyKid.com and feel fortunate that we are able to share with you the performances of this gifted Russian youth. Inspirational and moving – his performances are well worth beholding.