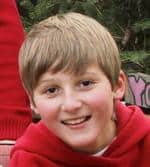 When you hear the name 'Cassidy' spoken in the same sentence with the word 'music,' some older readers of theskykid.com might be tempted to think of 70s teen sensation David Cassidy, or his heartthrob brother Shaun Cassidy. They were popular singers in their day, made more so, especially with teen girls, thanks to TV — David's The Partridge Family and Shaun's role in the Hardy Boys/Nancy Drew Mysteries. Even older readers, on the other hand, might see the name Jack Cassidy and think of the late Jack Cassidy, father of the above-named sensations, and an actor who died many years ago in a house fire.
Well, Minnesota's Jack Cassidy is none of the above.  He's a much younger performer with a full life of music ahead of him.  Even at just 13-years-old, Jack is well-known in gospel circles in his home state. Although he is an emerging recording artist, he is also currently a soloist at his local church. He has sung songs such as The More I Seek You, Be Still My Soul, and America the Beautiful for large crowds and on video.
Jack started singing at the age of three and has taken part in concerts with The Cassidy Brothers, four actual brothers from Jack's family who are recording artists and popular performers. Later, he won major roles in a number of school productions including Scrooge.  In recent years, he won an award after performing in his home state, and also sung with Mary Beth Carlson in December of 2011.  Jack's fame is growing, thanks to the power of Facebook and other internet tools. Listener reviews indicate that he sings with meaning and obvious feeling.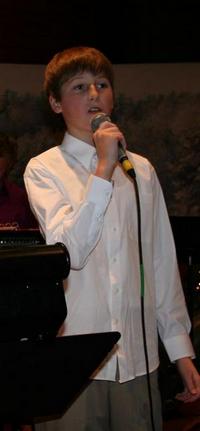 This young talent was influenced by singers such as Michael Buble and Stevie Wonder. He also enjoys listening to music by The Beatles and The Cassidy Brothers. His own grandfather, named Jim Cassidy, was another influence. But his most important inspiration is Jesus, Jack says, and it is Him the young man most often sings about. Young Jack sings because he knows his voice and his message make people feel good. Others describe his voice as smooth and soothing, and the teenager knows he has a gift. You can hear him singing on his uncles' debut album Sweet Spirit.
These days, establishing a fan base on YouTube is as important as convincing a recording studio that you have what it takes to sell records. As seen in the case of Justin Bieber, even very young individuals playing music and working hard can become successful before they even turn 20, if they have something special to offer. With his talent and drive, Jack Cassidy could very well become one of these success stories.