You got to like these brothers! They have something special! I have a younger brother, but what is it like to have one your own age? One who plays soccer with you and makes music with you? That's special.
The Fandino twins, Jacob and Nolan, have just released a new video cover of Perfect (One Direction) and it's a pretty good version in which we hear Nolan, the blond drummer, sing separately for the first time!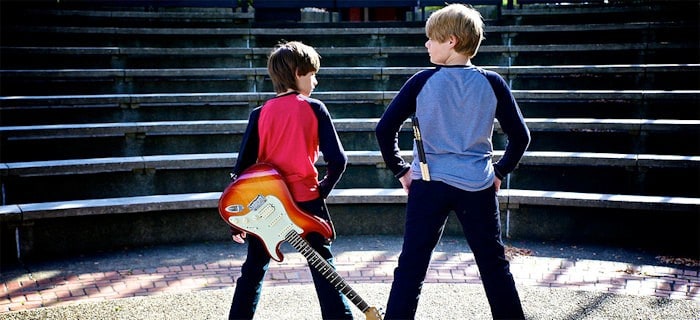 Surprise! Nolan's deeper voice more resembles Lee Marvin than Donny Osmond, which I wasn't expecting. To me, that opens up very original possibilities. A twin brother act that not only doesn't LOOK alike, but also doesn't SOUND alike! That is something Ellen should have a closer look at. (To follow that up: my first advice on Twitter to the Fandinos, back a few months, was to gain more playing experience before campaigning to get on The Ellen Degeneres Show).
http://www.youtube.com/watch?v=li-htXSCYAk
But then, living in Elon, N.C., it shouldn't be a big leap to get to Ellen, CA! The Fandinos were born in Chapel Hill, North Carolina and both learned to play piano. I'm certain Mom and Dad have much to do with their musical prowess.
When you open the videos of this brother act you are witnessing some of the evolution of two young musicians. (They also play soccer and that's big in my book!)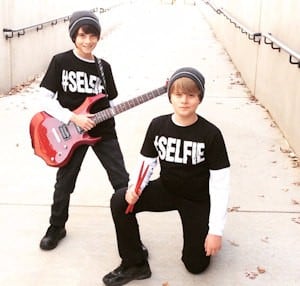 Jacob prefers his e-guitar, Nolan the drums (but he now has basic guitar skills as well). I was quite impressed that both Fandinos play excellent piano!
This pair reminds me a bit of the early Sharp Brothers (Sharp Turn Ahead) who are also twins. But Nolan's deeper voice opens up very original possibilities for harmonies and contrasting vocals which are rare in the musical world.
http://www.youtube.com/watch?v=6iGaiAzMsVY
The Fandinos have just started releasing more polished videos of their covers, but there are many "live show" performances. Commendable, these boys play their own music — it's not pumped in, as is often the case with young cover artists. Playing benefit concerts, small outdoor stages, street playing or doing gigs at The Eddy Pub or The Fat Frogg all build up confidence and add to experience. These boys sound big, playing modern pop songs or Rock songs like Hello (Sugar Bomb).
http://www.youtube.com/watch?v=gKmOfIRMe_4
Their latest video cover of One Direction called Perfect is in black and white, which is disappointing. They are a colorful pair and should be presented that way. The music is good, especially the opening guitar tones — rich and deep. The video has some rather cliché cuts, but it's OK. Music videos have developed at such a fast pace, bombarding us with images, that we have to shift down to appreciate these efforts. A professional video producer (like for eg. Vichy Ratey) would spice up the visuals. But maybe that's for the future.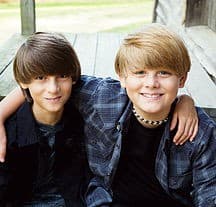 Yet the obvious kick and challenge of performing together is visible. That's what counts at age 12 after all (that's what counts at any age, actually!)
The Fandinos are an interesting brother team. I do wish them future success and much loud applause and we will be anticipating new songs from them.