When you kiss you give or you take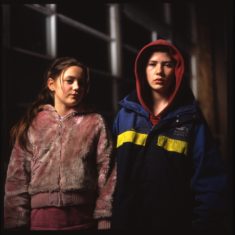 Kisses, directed by Lance Daly, is a 2008 Irish film released in the USA two years later, in 2010. Two 11-year-old runaways, Kylie and Dylan (Kelly O'Neill and Shane Curry), are the lead protagonists.
Through their eyes, we see what life in the suburban outskirts of Dublin can be like — when there is a lack of understanding from parents and peers, and verbal and physical abuse are mundane.
In that kind of neighbourhood, kids discuss what they can become when they grow up  —  always concluding that it won't matter much as long as they get to move away from their grimy neighbourhood.
After a major scandal in Dylan's house, during which he hits his father to protect his mother, he tries to run for his life but would not have been able to go far if it was not for the neighbourhood girl, Kylie, who heard the screams from her bedroom windows. Finding themselves in big trouble, Kylie and Dylan decide to run away and attempt to make it on their own.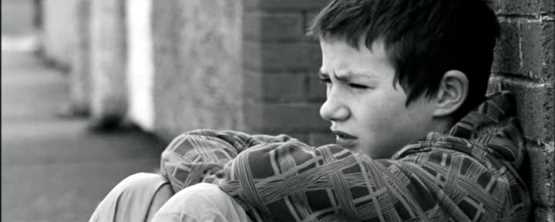 Viewers can't help but notice the Director's playing with the photographic properties of the shots — their tone is set by the usage of colours which sets the mood in the film. The first and last scenes are shot in black and white, with a creative shift to bright colours occurring when the young protagonists embark on their journey full of hopes for a change to a better life.
The soundtrack of Kisses has a significant meaning in relation to the narrative structure of the film. Many of the backing tracks are songs performed by Bob Dylan who's song, Shelter From The Storm, can be perceived as a theme song for the film, as that is what Dylan and Kylie are looking for – happiness (or at least a temporary shelter from the world that surrounds them). As with most Irish films, the viewer needs to be aware of the noticeable accent spoken by the actors. While this won't be a big hurdle for most native speakers of English, others may find the dialogue hard to follow if they don't concentrate on them.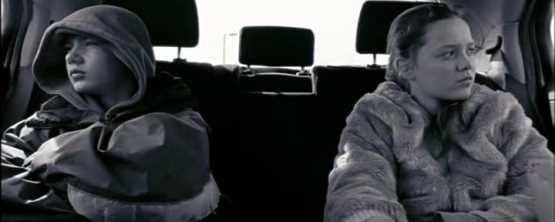 The characters in Kisses are very believable, as both the young leads (who are on screen almost all the time) are newcomers to the cinema, which results in their acting being poignant and realistic. The Director chooses to introduce them and their mentality with background noises – the unmistakable sound of dysfunctional families. Both Kylie and Dylan find themselves being actors in a play they never rehearsed for – either ignored or blamed for the failures and problems of their relatives.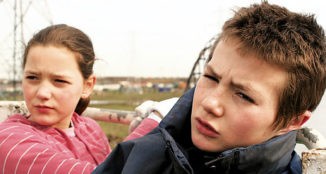 Kisses is the third film directed by Lance Daly. Both of his previous works The Halo Effect (2004) and Last Days in Dublin (2001) share similar settings and one can even quickly draw a parallel between the main idea in Kisses (getting away from the mundane suburban life) and the personage in the Last Days in Dublin (2001), who is also embarking on a coming of age journey to world and self-discovery.  More detailed analysis of the film may link it to masterpieces such as the French Les Diables or the Ken Loach film Kes.
Usage of slow-motion in the last scenes emphasizes the undecidability of a final resolution for the young protagonists – sending them back to their stygian world. The acting performances, the coming of age story, and the clever use of colour might have resulted in a four-star rating. However, most viewers will recall too many films with a similar plot, which hardly makes Kisses a film with an original plot resulting in a final rating of 3 stars from theskykid.com.
Official Trailer :
Title:   Kisses
Director:   Lance Daly
Country:   Ireland
Runtime:   72 Min
Cast: Kelly O'Neill, Shane Curry, Paul Roe, David Bendito
Get Kisses on Amazon.com
Kisses