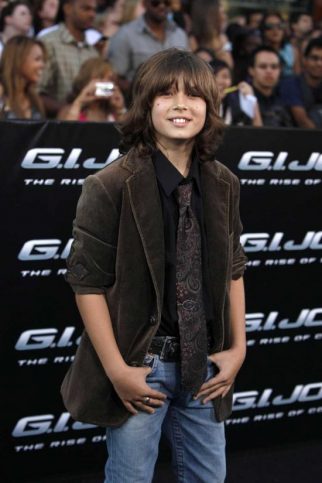 Leo Howard, age 12 , was born in Newport Beach , CA.  Leo is a remarkable young actor, one you're really going to have to keep an eye on. Leo is making a name for himself.  He has his own show on the Disney Channel called Leo Little's Big Show — doing interviews and DVD reviews.
He has four films under his belt: Aussie and Ted's Great Adventure (Eric Brooks), Shorts (Laser Short), G.I. Joe: The Rise of Cobra playing the part of young Snake Eyes and a new one, Logan, in which he plays the lead role (Logan Hoffman). It is currently in post-production.  Playing the role of young Snake Eyes, he got to show off all of  his skills, not only his acting abilities, but he even did his own stunts as well. Training for the role wasn't hard for  this young man.
Leo holds a black  belt in Shorin Ryu style karate. By the time he was 8 years old, he had won three world championships. Then he moved into extreme martial arts. If you would like to see him in action you can. He belongs to a group called Sideswipe. They put on performances around the country a few times per year. They have not yet put up their schedule for 2010, but you can watch for when they'll be appearing on their website www.sideswipepro.com
This is a remarkable young man. Check him out.