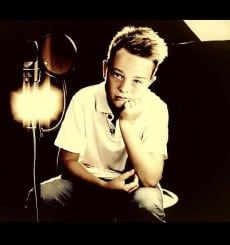 The business of professional video production is Vichy Ratey's business! The man has already produced young artists like Ryan Hellenbrand, Besart Morina and Ali Delic from the Rap-Hip-Hop milieu. His latest focus is on a 13-year-old Offenburg boy called Mike Singer.
When you watch any of the 15 videos currently on YouTube, you'll immediately see the expert editing and camera work that marks these small visual masterpieces. Mike may be the singing center of these experiments, but Vichy's photographic creativity looms through the productions! Not only that, but Vichy has written many of these entrancing tunes. Having watched all of these videos, it occurs to me that we have entered a new era of presenting sprouting singers (Singers, get it!?) to the internet world. No longer do we expect a new Bieber to be discovered, plunking a few guitar chords on an over-sized guitar and romping with his pals.
The New Era Is VISUAL INNOVATION!!
Mike is a diminutive, vulnerable-looking boy with a fascinating profile; sharp and serious in places, fun-loving and cool in others. His singing voice is not the strongest or clearest, but it handles the English lyrics and trill notes quite well. These videos are an excellent start for him, which the view count and admiring comments confirm.
In Love That Girl, the visual reminds me a bit of Falco's Der Man mit dem Koks. Written by Ratey, this has a gentle rocking disco-pop beat, and it's about young love resulting in teenage pregnancy.
Mike Singer:  Love That Girl 
"Rock 'n Roll on the floor..Billy wants to give her more": lyrics with clever background dance stylings. It's about "lil girls and lil men," a difficult subject for a song — with the resulting, somewhat comic lines: "Billy gets taken off in chains, Betty Lou gets labor pains."
A song about difficult, uncertain love,  Hold On features an older rapper named E.M.O. The combination works OK, but I find the song fairly cliché, somewhat soggy and sentimental. "Say you'll never leave me" is possibly the most over-used line in music.
Mike Singer feat. Ado Kojo – Mein Herz

Vichy's video style features are the "close-up portrait" and the "contrast between light and darkness," which you will see repeatedly.
It's fascinating how dramatic a boy's head and shoulders can be. For example, in slow motion: how much they reveal about sadness, sensitivity, longing and so on. The Circus does this, a kind of haunting back-to-childhood tune, though with lyrics I can't much understand.
MIKE SINGER " Jar Of Hearts " Christina Perri Cover

A much different style is visible in the trance-like melody Goodbye in which Mike glides robotically through fences, and we are bombarded with images. This song has originality and appeal that works.  It's this type of song that touches on something special, something yet to be created!
 "So many times I loved you
You only answered with a sigh –
So how long have you been planning
The long goodbye!?"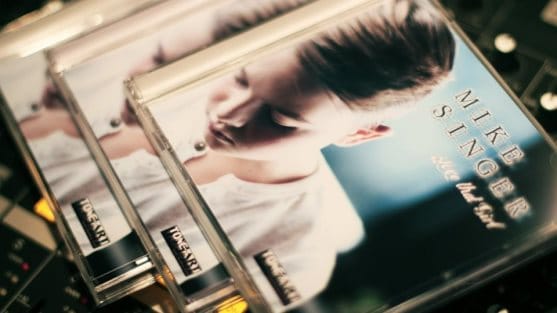 This tune moves between sentimental ballad and techno beat as Mike plays a small keyboard and is served various props: caps, glasses, a toy, a guitar. A shadowed dancing youth adds motion to the black and white scenery, and both subjects break into a brief synchronized slow-mo at the 3:05 mark that is schick! Good to see young Singer enjoying the beats and visual fun in this brilliant video. A Big "like" for this!
Mike covers Bieber's Beauty and a Beat quite nicely, although he can't quite carry the dynamic behind this, and visually there should be a second person to focus on here.
In Wanna Wanna featuring PzYchedelic, Ratey presents a whole happy array of young faces, interesting and fun, but it's a troublesome theme to me: young infatuation and sexuality. "I wanna put it to you" is about wanting a girl and hints at more than just holding hands.
Mike's Emeli Sande cover of Read All About It shows him singing the paper's lyrics, which is not exciting to me.
His song Promises reveals faults with his English which blurs some lyrics here. This very appealing song creates another problem I sometimes see lately: kids singing "adult experience" songs. After an emotional first minute, Promises moves into a Hip-Hop mode, Mike dressed appropriately. The visual toggles between realistic Bahnhoff shots and fantasy backgrounds.
A cover I like is Christina Perri's Jar of Hearts — given a new perspective with a young boy singing this tale of being used. I love the contrasting bright spots around Mike framed by darkness – more visual genius by Ratey!
Boy Gone Wild is a snazzy Techno-Hip-Hop-Dance creation, again produced brilliantly! But it is possibly not the style which best suits Mike Singer, who appears just a touch too young and constrained to wear this outfit. Still, it's a super beat and visually very attractive.
There are covers of Chris Brown and Bruno Mars, which Mike does well, and Mike's video on a recent train ride to Berlin.
What's important to me here is the danger of concentrating too much on producing flashy videos and rapidly snapping up lyrics instead of focusing on the music. Mike's voice could project more. The English flaws are not significant, but the lyrics come across with little accentuation in some places.
The bright side is that I see a young boy learning rapidly, having a privileged time creating new and exciting material. There seems to be a mutual stream of creativity flowing in the right direction between Mike and Vichy, which is insightful and fun to watch.
Mike's popularity is rising quickly, so I'm certain his success is guaranteed with Vichy's fine production, at least online for the moment.
 Anyway, I'm along for the ride!
 For more information about Mike Singer follow him on YouTube, Twitter and Facebook. 
Watch Mike Singer and jump on the bandwagon !
                                                                                               rjmendera for theskykid.com