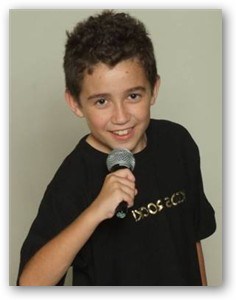 There is a rising star out there you need to keep an eye on.
A wonderful young voice by the name of Sam Verlinden.
A young talent who lives in the zone of music that the rest of us get to visit once in a while.
Out of Kiwi land Auckland New Zealand and now just 10 ½ years old he is finding his firm footing on the stage.
By way of a quick introduction taken from his resume:
* At only 10 years old – Sam is possibly the youngest singing sensation to hit Auckland – and possibly New Zealand – ever. His vocals have been described as natural raw brilliance. He has a powerful soulful tone and lovely quality to his voice.
* He is the youngest member of the junior 5 piece vocal band KIDZ ROCK – and has often been compared to the young Michael Jackson from the Jackson 5 era.
* Sam loves the old Jackson 5 hits, he sings a powerful rendition of "I'll Be There" and "Who's Lovin You". His other musical influences range from R Kelly, Justin Timberlake, Jesse McCartney, Stevie Wonder and the Beatles.
* Sam recently won several gold medals as a soloist in the NZ singing finals of Aim to Fame. His precious gold medals qualify him to represent NZ to compete at the World Championship of Performing Arts in LA in July 08. This competition is likened to the Olympic Games of the Performing Arts, with 52 countries competing.
* He is also been an active member of the musical theatre company (NYTC) for 3 years.
They are currently rehearsing the stage show Grease in which Sam has the lead role of Johnny Casino. He has had many leads during this time, including Oliver and Little Joe in Joseph and the Amazing Technicolour Dreamcoat.
* Sam is very passionate about his Pacific Island heritage and does a very moving performance of leading the Haka.
* Aside from singing, Sam's biggest passion is rugby. He'd like to sing the National Anthem, lead the Haka, and play as number 11 with the All Blacks one day – and all on the same day!
Links to his gold winning performances can be located on his website and YouTube which has received over 210,000.00 hits.
Here are just some of the Honors this particular video has scored on YouTube the week of 30 March 2008:
#67 – Most Discussed (This Week) – New Zealand
# 9 – Most Discussed (This Week) – Music – New Zealand
# 5 – Most Discussed (This Month) – Music – New Zealand
#22 – Most Viewed (This Week) – Music – New Zealand
#44 – Top Favorites (This Week) – Music – New Zealand
#31 – Top Rated (This Week) – New Zealand
# 3 – Top Rated (This Week) – Music – New Zealand
# 4 – Top Rated (This Month) – Music – New Zealand
Sam is a down to earth kid with one small exception. The music never stops. He said he can't remember when he first started singing, he just always has. Like New Zealand's own little August Rush, he hears it all the time. During my interview he said that he is often asked by his teachers to stop singing in class. What's a kid to do? That's where his head is.
KIDZ ROCK are currently looking to fill two of their positions bringing the group back to five. But that will be a different article.
I asked if he played any instruments and he replied that he was left handed and tried the guitar but it just wasn't happening even when they strung it for a lefty. He decided to stick to what he does best and enjoys the most. Singing! And the boy can certainly sing.
When he's not singing, he loves Rugby and aspires to be Number 11 or 12 with the All Blacks. He can recite every All Black players credentials from height, weight, position – he's a number one fan all the way. He's like a walking encyclopedia for the NZ All Blacks. Incredible.
He also enjoys WWE Wrestling in his quiet moments of evening contemplation, where he can watch Shawn Michaels make someone listen to his "Sweet Chin Music." (Even his wrestling favorite is associated with Music! But I don't think I would want to listen to that one up close and personal.)
Sam loves is special needs sister Emily and loves it when she sings with him.
Sam is up for the Gold now but there's a snag. The trip to LA is not funded and is quite expensive. And the little guy can't go it alone so Mum needs to go too. And time is running out, they leave 13 July 2008. The cost is $6k pp – they have raised nearly $1,200 and are seeking corporate Sponsors for the balance. Clothing logos or the like. Hey!
Why not ask the All Blacks! I think something could be worked out?
A little tattoo work and
An new article : Sam Verlinden "Superlative Virtuoso"