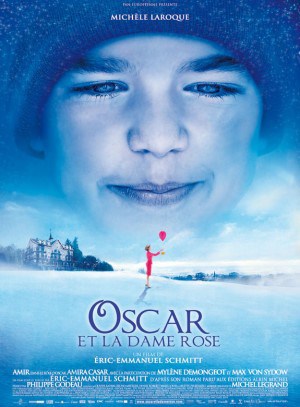 Oscar (Amir Ben Abdelmoumen) is only ten years old and he is in the hospital with one of the most vile diagnoses – Cancer. Everyone is preoccupied with him; all the doctors and nurses are willing to go an extra mile,  just so his wishes are granted and mischiefs forgiven.  Yet, they are committing the biggest mistake, at least in Oscar's eyes, by refusing to be honest with him. This saddens the little boy, as no one laughs at his jokes or gets annoyed at his pranks – his condition makes the entire hospital staff  treat him differently than the other patients.  He is angry with his parents too, for changing, for not being the persons he knew:
"My parents are two whackos, two total idiots with no conversation since I've been sick. I don't want to see them now. I'd rather remember the time when they could say I love you without sorrow."
One day, while walking in the ward, he meets a lady dressed in pink.  She is so unlike the rest of the adults in his life – scolding him and another patient on her way to deliver pizzas or try to sell them in the hospital.  She is quite pragmatic and doesn't fool around, which immediately attracts Oscar. He demands to see her. But the doctors, who are worried that he is closing himself in and refusing to talk to most adults agree to ask her. When contacted by the doctor, the woman reluctantly agrees to spend some time with Oscar – twelve days – the last twelve days of his life. Unlike the rest of the adults in Oscar's life, the lady in pink  does not attempt to deny the fact that Oscar has little time to live. When she first visits him,  she tells him that he should "live each day as if you lived 10 years", thus giving him  (and the viewer) the opportunity to become acquainted with each stage of life. From that first day on, she spends time with him every single day. They develop an unconditional friendship as she teaches him about life…each day…"each ten years ".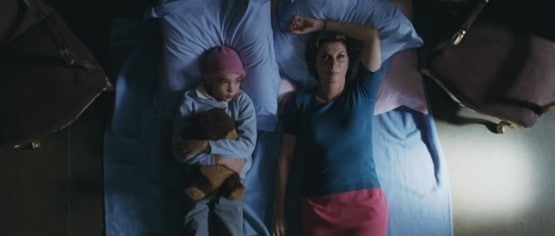 This is the story, told in the film, based on the novel by Eric-Emmanuel Schmitt Oscar et la Dame Rose (Oscar and the Pink Lady). It's a film filled with sadness and love. While watching Oscar in the hospital, you will become emotionally attached to him. It happens despite the fact that you know how the story will end, as does Oscar. The film is a co-production of Canada, France and Belgium. Oscar et La Dame Rose is probably the most touching film you will ever see. Some scenes are abstract, fantasy-like with visual style and a narrative typical of the French cine. Others scenes are theater-like, which is not suprising as the book was first adapted as a play.   Close ups, time lapses and brilliant acting complete the cinematography magic created by the Eric-Emmanuel Schmitt (who wrote the novel and directed the movie).
Oscar et La Dame Rose is a touching film: beautiful, sad while full of wisdom.  It's unlikely that you will finish watching it without tears in your eyes. While some may prefer to skip this film, claiming that movies are supposed to only entertain and they don't need more sorrow in their lives –yet even to them I would not hesitate to recommend the story of the Oscar. It is one you won't forget long after the final credits roll…
Film title: Oscar et la dame rose
Alternative title: Oscar and the Lady in Pink
Release year: 2009
Director:  Eric-Emmanuel Schmitt
Cast: Michèle Laroque, Amir Ben Abdelmoumen, Max von Sydow, Amira Casar, Mylène Demongeot, Constance Dollé, Simone-Elise Girard, Benoît Brière, Mathilde Goffart, Thierry Neuvic