"Everybody's kind of boy… in everybody's kind of movie! "
They sure knew how to pitch a film in the 60s.  And for the most part, the pitch is justified as, although the film was made half a decade ago, it involves the viewers and teaches an important life lesson without the story becoming either boring or preachy.
Directed by Frank McDonald, Raymie is a movie titled after its main character, a nine-year-old boy who is an avid fisherman with a big dream: catching a legendary giant barracuda known as Old Moe.
Raymie is played by David Ladd, an actor who won the Golden Globe award as the "Best Newcomer of 1958" and stars in some of the most prominent Coming-of-Age classic films from the period – The Sad Horse, A Dog of Flanders, and Misty. David is the son of one of America's best-known leading men — Alan Ladd. David went on to become a teenage idol and later an executive for MGM.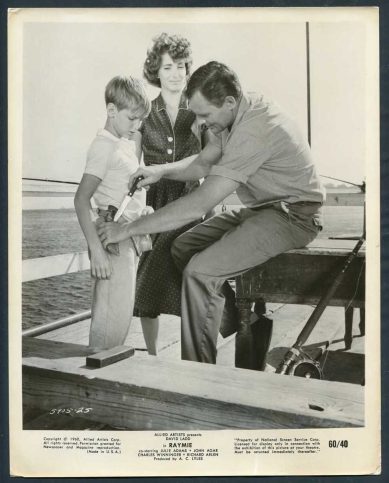 In Raymie, David embodies his character in a manner that evokes sympathy in the viewers, who either associate with the young boy on-screen or feel a nostalgic tinge. Raymie is not unlike many other boys portrayed in Coming-of-Age narratives from both the past and present. He's without a father figure in his life, trying to do the right thing and learning new things day by day.
The 60s was a different time – when a knife would be a standard tool for any self-respecting adventurous youngster. Today, most viewers would not even have been born when the film was released, but somehow the way the story is told helps one to get an idea of the time and its values – some valid to this day.  The storyline is simple but filled with allegories, undertones, and embedded life lessons that are the best things one can come away with having seen a Coming-of-Age film.
Not everything is perfect as the acting from the adult cast appears a bit forced at times, one can note they are acting. This is partly compensated for by the wonderful theme song, which I'm sure is the thing that will stay in the mind of viewers long after the final credits have rolled.  As simple as the story is–it engages – emotionally and otherwise.