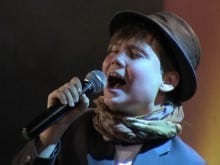 For me, it's always fascinating finding new singers, especially when they're from right here in Germany.
The first thing I noticed about Richard Istel, who turned 14 today (5-Aug-2013) is his impeccable English — an American English — with absolutely no accent!!  When I asked Richie how this was possible, he answered it was simply a talent for emulating sounds!
Richard Istel lives in Leipzig with his family and has already been incredibly busy touring Germany and performing in Latvia and Poland. In Konin (Poland),  he recently won the 13-18 category at the International Children's Song and Dance Festival.
But even way before this, in 2009, Richie made his mark in a German talent show called Das Supertalent by being the only child to reach the final round (he placed 5th).  Richie has also been on Teenage Rockstar and placed 3rd at the Europop contest, all of which is news to me because I had never heard him sing in the 20 years I've been in Germany. Richie even sang for Nena on TV!
Michael Jackson/Jackson Five I´ll be There Cover by Richard Istel
I've found one original song called World's Turning, with lyrics by his sister Lisa and co-created with his dad, who seems to be a solo entertainer on the accordion.
What you hear when Richie sings is a harmonic, rich, treble voice capable of holding notes and full of young power. He has a natural, self-confident performing style and is certain of his ability to charm an audience.
His choice of music from the modern Pop genre shows his ability to deliver somber tunes like Stay, Vampire and Hallelujah, as well as romping tunes like Hollywood Hills. There are many more covers worth listening to on his Youtube channel: Skyscraper,Video Games, Angel and a very funny home video of him cracking up trying to sing Ben from a few years back. You can find out more about Richard Istel by visiting his fan-page.
Richard Istel – Hollywood Hills
In introducing Richard to TheSkykid.com readers, I am still on a journey of discovery myself, Leipzig being a communist part of Germany before reunification. Perhaps I'll have to travel to  see him at the Classic Open in Leipzig on the 10th of August, where Richie will be at the Marktplatz. And then there's the Finale Singing Young Stars in Salzburg Austria on the 24th of August!  Or maybe I should visit the Piratennächte (Pirates Nights), where Richie will sing in December.
Richard enjoys performing and is comfortable in front of either intimate or large audiences.  His musical route seems well managed and I get the feeling this artist will be in the national and international spotlights increasingly as his popularity grows. My best wishes for success and I'll watch for more inspiring offerings from Richie in the future.
Happy 14th Birthday from rjmendera and everyone at TheSkyKid.com!!