"Next to God, singing is my favorite thing!"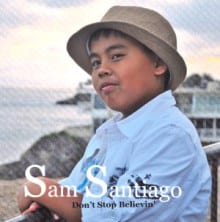 Sam Santiago is an amazingly prolific singer/performer from Irvine, California who celebrated his 10th birthday this past August.  Sam began singing at the young age of two and hasn't stopped since.  His pitch perfect vocals make a studio technician's job easy, as in many cases only one take is required to accomplish the task.  What makes Sam stand out the most for me is the fact that his live performances sound as good — if not better — than his studio recordings.  Yes, he is just that good!
Many youngsters have a desire to become a great musician or vocalist. Few, however, understand how difficult this goal is to achieve with the many engagements, lessons and practice sessions that become a large part of each day — whether attending school or not.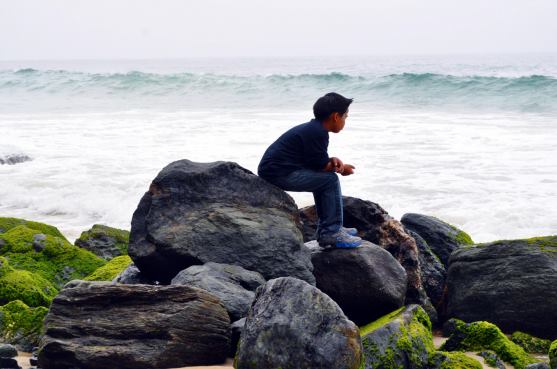 "Sam is busy with music from the time his eyes open till they close at the end of the day."
Even though Sam has been on summer break, his schedule did not change.  Each morning he awakened to one hour of vocal training, another hour of guitar practice, then worked with his older brother on video shoots, and finally practiced again in the afternoon and evening with his parents.
His busy summer schedule included numerous auditions, studio recording time, talent shows, fund raisers, birthday party performances, one fashion show, two LA Rotary Club performances, and television appearances.  And that doesn't even include the  many special engagements for church events and wedding anniversaries!
Don't Stop Believin' – Sung by Sam Santiago
While all this may seem overwhelming to some, Sam just can't get enough!  I watched in amazement at the close of a more than two hour professional studio session for his new CD. Sam slipped away to another room afterwards, picked up his guitar, and began to practice another song just for fun.  Most would have been exhausted and complaining, but not Sam!  At the end of one weekend, when he had performed at three different engagements on the same day he said, "OK. Where's the next gig?"   The rest of us just sighed and said "home to bed".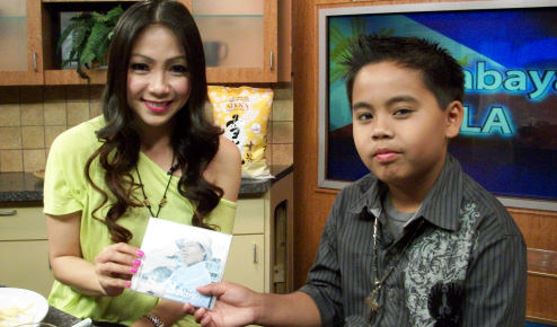 Sam was featured on KSCI-TV LA 18 on 2-Aug-2012.  The host of the show, Jannelle So, spoke with Sam about his upcoming appearance at the Historic Filipinotown Festival where he was to perform that coming Saturday.  Jannelle was so impressed with Sam that she  invited him back to debut his CD on November 8th.  Sam will be performing songs from his new CD as well as talking about how the sales from his downloads will be used to help the flood victims from this year's flood in the Philippines.
 Sam Santiago at KSCI-TV LA 18 interview with Jannelle So
Sam's Debut CD contains four songs, one of which is an original, along with all four of the backing tracks.
(Track One)
His title song Don't Stop Believin, made famous by the classic rock group Journey, is amazingly performed by Sam.  He not only sings the song like it should be sung, but adds his own embellishments — making it his own.
(Track Two)
The second track, You Raise Me Up, made famous by Josh Groban, is a beautiful rendition of the song, only like Sam could do it.  You won't believe your ears when you hear this 10-year-old sing with the compassion and feeling of someone twice his age.
(Track Three)
His last cover song is the classic Unchained Melody which, as of this writing, is one of my favorite songs by Sam.  Sam can't be compared to anyone else because his music has such diversity.  He can sing a variety of genres, rock it with the best, and still sing a love ballad with the conviction and sincerity of someone well beyond his years.
(Track Four)
Sam launched his first original song with this CD.  It's called You'll Always Be.  Recording it fulfilled his goal of recording an original song before he turned 11-years-old.  His CD was released the day after his tenth birthday, accomplishing that goal with flying colors.  When I first heard this song, I was quite taken with the overall difficulty of the arrangement.  Some of the notes in the melody would be a challenge for any veteran singer, but Sam conquered this song with ease.  I was privileged to be in the studio with him the evening of the final mastering of this original song.  It was amazing to watch Sam at work in the studio and how effortless he seemed to make this project.  The more I listened to this song, the more I liked it. In fact, I went to bed that evening not being able to get it out of my head.  I guess you could say I really liked this beautiful bluesy ballad.
On 1-Sep-2012, Sam partnered with Gawad Kalinga, an organization in both the US and the Philippines, which provides relief to the people of the Philippines.  Each year, the Philippines suffers from devastating floods, earthquakes, and mudslides.  Until the end of this year, Sam will be donating 100% of all his profits from all his online music downloads to help Gawad Kalinga in their support efforts.  You can support Sam in this gallant effort by purchasing his music on iTunes and Amazon.com today!
Sam Santiago and Gawad Kalinga
Combine Effort to Aid Philippines
I'm sure you can see that this is one amazing and talented young man who is well on his way to the top of the recording industry.  The only thing Sam needs is the right person in the market to notice his amazing abilities.  You can be sure that this site not only notices, but will continue to support Sam in all of his efforts both as a young artist and also as a humanitarian.
Sam Santiago is precisely what I labeled him in my first article on Rivenmaster's Place:
Rivenmaster's Place has become the global home to young unsigned treble singers, aspiring young actors and talented youth. Each week a youngster from various parts of the world is featured and sometimes introduced to the world for the first time! You will enjoy outstanding articles that are derived from speaking directly to the parent of the child and also personal interviews with the young celebrity. Many young people have been given even greater opportunity to expand their careers due to the dedication and effort of this site! For more information visit: Rivenmaster's Place. Or write to: writemeone@hotmail.com