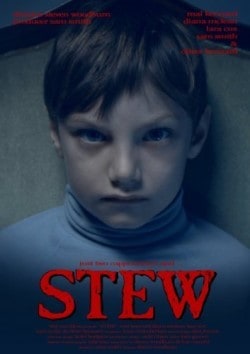 Tropfest – the short film festival in Australia  — has always been a place to discover superbly produced Coming-of-Age films. Marry Me in 2008 and Time and Revive in 2013 are just some of the titles that were first screened during the festival.
Today you are in for a real scare with Steven Woodburn`s 2013 movie Stew, a Tropfest 22 2013 finalist.
Stew is a film about the past coming back to haunt the present. A seemingly innocent situation triggers the memories of Bill (Malcolm Kennard) – about a dreadful experience of his childhood. He sees himself as a sensible youngster (Oliver Kennard plays the role of the young Bill) ready to receive …the STEW.
Sometimes things are not what they seem….
The film feels like an intensified version of the German fairytale Hansel and Gretel – fully capable of scaring adult audiences – and, even more so, younger ones. Utilizing slow-motion cinematography and sound effects commonly associated with horror flicks, director Woodburn manages to construct a chilling atmosphere. At the same time, the slow panning camera heightens the suspense and makes the viewer aware of the vulnerability of the young protagonist.
While the first scenes are not entirely convincing (the actors overact a bit), one gets sucked into the story as it develops. The soundtrack comprises just one song – Seven by Apes – but it's used to significant effect in the final scene.
Having seen Stew, I liked the film …but am likely never to eat a bowl of Stew again.
Watch the entire film below :