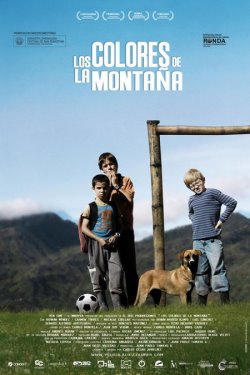 When I first saw the poster about the Colombian film The Colors of the Mountain (Los colores de la montaña) I really didn't know what to expect. Yet, after the first few minutes of the film I got the feeling that I knew the story. The scenes and directing style reminded me of the 2004 film Innocent Voices which, added to the fact that both films share a similar message (innocent children deprived from the right to have a normal childhood, because of the social and political environment they live in), could easily explain the feeling of recognition I felt while watching the film.
The film's Director, Carlos César Arbeláez, ably presents the story of a young boy and his friends, whose lives are changed after their families get in between the conflicts between the guerrillas and the paramilitary soldiers.  He does this by building tension, while avoiding some of the disturbing (but also most powerful) scenes present in Innocent Voices.  Arbelaez achieves this tension by combining elements of action and suspense that keeps the viewer engaged with the story being told on film.
The story of the film focuses on the friendship between the main child protagonist, Manuel (Hernán Mauricio Ocampo),  and Julian (Nolberto Sánchez), his best friend and classmate.  While the film lacks the presence of such an accomplished young actor as Innocent Voices star Adrian Alonso,  the child cast of The Colors of the Mountain (most of them starring in  a full feature film for the very first time), delivered good and believable performances, something I cannot say about the adult members of the cast. This flaw of the film is  partly explained by the fact that most of the events on screen are seen from the point of view of the children.  As kids, they don't have the same interest in the political happenings going on around them, but they are affected by them. An example of this… One day, while playing a football match, the boys'  ball goes astray into a minefield. Along  with another friend nicknamed "Low Light", the boys risk their lives trying by every means they know to rescue this precious object, which is essential to their dreams and daily lives.
[nggallery id=165]
Those who are not familiar with the political situation in Columbia, at the time in which the action takes place, may be a bit confused by the armed factions and their conflict.  Yet the viewer is left with an uneasy feeling after witnessing the discomfort and anxiety felt by the local farmers when the armed factions start to appear in the city.
The story touches on some issues essential to any coming of age drama including friendship, peer pressure and a loss of innocence.  Beautiful landscape and creative camerawork are other features of the film that make it worth the viewer's time.