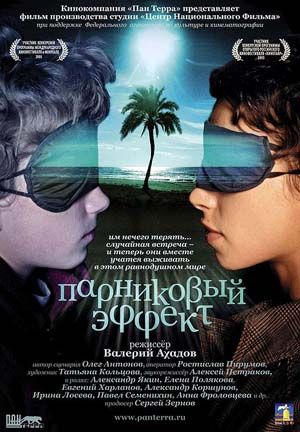 I knew about the Greenhouse effect for a while.  It has been recommended for me several times .  I thought that the film`s will be a sci-fi and will deal with some outer space – but when I finally saw it – I found out that my idea of it was quite wrong. For a better that is – as Greenhouse effect turned out to be excellent even if overwhelming sad coming of age drama. I really liked it – and even trough it has been released on DVD I tend to think of it as a festival film.
Greenhouse effect has 2 young protagonists :
Rita (Elena Polyakova) is a naive young girl from the province. She comes to Moscow to look for a man she met up with 4 months ago. We soon find out that she is pregnant and is hoping that when she finds him – he would take care of her and the baby. Once in Moscow thieves steal her luggage and she finds herself  with no money , documents and on top of that she doesn`t know how to find her friend as his address was written on a piece of paper that she had in her briefcase .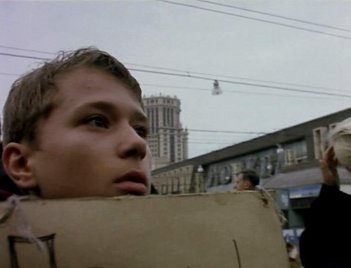 The second young protagonist of the film is Ernest (Aleksandr Yakin)  – a homeless 12 years old boy who lives in a Greenhouse , baths in a car wash and tries to earn some money by begging in the station and taking various odd jobs in the city. He is smart boy – street wise and has learned a lot about survival and people from the streets . He dreams of heading to Greece with another street kid – who is being hold in hospital for operation .  The young actor Aleksander Yakin fits perfectly his role – in an interview the film director mentions that Aleksander has a complicated biography himself and something about his  life, shown in the picture. The directors also stated that the 14-year-old actor has demonstrated surprisingly mature understanding of the meaning of the difficult role of homeless kid.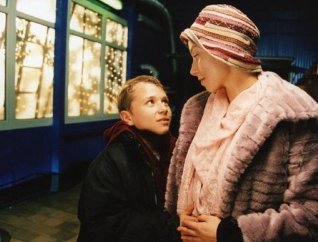 Ernest meets Rita at the station. When he finds out that she doesn`t have where to go – he takes her to the Greenhouse where he spends his nights. He teaches her a lot about life in the streets – as despite his younger age he is not a novice on the streets and the life there has teaches him the rules for survivals – in a sense he acts as a mentor to the 18 year old Rita. Their relationship has a central role in the movie`s plot . They learn a lot from each other and the life – which contributes to the notable value this movie has for all fans of the coming of age genre.
The directing and the camerawork in the film are quite unique. Sepia colour filters are being used at times and some scenes are shoot from a fast moving car or train. One gets an idea of the beauty and the brutality of Moscow as the down makes an intriguing background for the events in the film. The cinematography in The Greenhouse effect is similar to the ones you will see in another post-Soviet Russian films such as The Return and Koktebel ( which I highly recommend as well ) .
Overall I was quite impressed with the film and after seeing it I will definitely find time to thank everyone who recommended it to me. Like every good drama the movie gets harsh to watch at times – as its features many touching and emotional scenes . I myself got quite emotional while watching the final scenes – angry at Rita and worried about Ernest and his sacrifice …
————————————————————————————————————————————————–
This review would have not be possible without the valuable support of CVMC : The oldest movie rental service on the Internet — since 1998. Specializing in hard to find & rare films from around the world. I would like to thank them for supporting theSkyKid.com by providing rare films for your enjoyment . Check out the films page  site at  the CVMC.net
Information about the film and interview with its director ( in Russian )