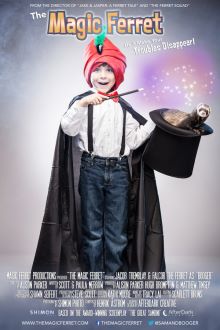 I'm happy to have this opportunity to follow up on the announcement, made on this site earlier this year, of the new Alison Parker short film called The Magic Ferret.
Over the past two years, TheSkyKid.com has supported the films of Director Parker as they feature a heartwarming storyline, charming young actors, they're filled with positive vibes and, though I have never seen ferrets in real life, they have become quite likable to me thanks to their prominent role in each film directed by Ms. Parker.
I previewed the film by watching its screener. In it, six-year-old Sam (and his ferret pet Booger) hopes to be chosen by one of the couples looking to adopt a child, who visit the foster home where Sam and Booger reside. Sam hopes that his magical skills will impress his perspective parents and the only challenge he faces is to get Booger to cooperate.
You will like The Magic Ferret if you don't approach it with overly high expectations. Aside from the charismatic young actor Jacob Tremblay (who, at such a tender age, delivers an impeccable performance as Sam), the best thing I like about the film is its musical score, which features the songs Magic by Selena Gomez and This House by Cat Thomas. The score effectively reinforces the feel good atmosphere of film.
I imagine that animal lovers and young kids would be the best audience for The Magic Ferret. Although the film length is brief, the director manages to grab the viewer's  interest in the fate of the young orphaned boy.  I can't imagine a person watching this film without having the hope that things will turn out well in the end.
The Magic Ferret Official Trailer