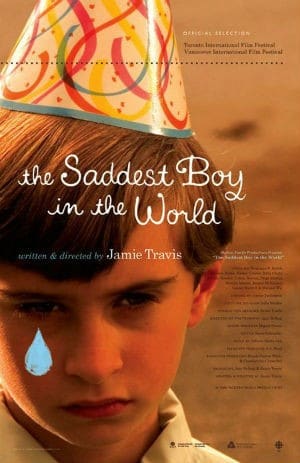 The Saddest Boy in the World is an avant-garde short film with a unique, vividly shocking style, which explores the inner world of a young boy overwhelmed with dark thoughts on the verge of his ninth birthday. The story is narrated in the first person, through flashbacks, by the young protagonist, Timothy Higgins (Benjamin B. Smith).
His childish voice in describing the events in his life adds a layer of authenticity to the film, though I confess I found it hard to understand him at times when he mumbled his thoughts. But, hey, he's The Saddest Boy in the World, so that downcast manner of expressing himself is pretty plausible.
Imagine an essay topic assigned to a nine-year-old entitled: Why Am I Not Happy? The film can serve as a visual response to that question and more…
The quirky dark comedy has a decidedly melancholic atmosphere created by the excellent production design and editing. Bright colors and straight lines characterize most of the sets seen in the film. Benjamin B. Smith managed to choose the right expressions – of oblivion or desperation – and one could easily read the sadness that overwhelmed his character just by looking at his face.
Like most surreal pictures, different people react differently to a story filled with implicit meaning below a film's surface. Not everyone enjoys films that challenge the viewer to interpret what the director is trying to say. Yet, The Saddest Boy in the World inspires a desire for interpretation — as indeed portraying a youthful depression can't be the movie's sole purpose.
[pull_quote_right]…Last summer, when I was kidnapped, my mother could not afford the random  …[/pull_quote_right]
In a way, the film makes the viewer compare his/her own life (or childhood) with that of the young Timothy. Everyone has had gloomy moments or misfortunes that, at the time, appeared like the worst thing one could ever experience. People tend to over-dramatize the happenings in their lives, which can often result in unexpected consequences…
Don't over-dramatize – that's the message I was able to decode for myself from Timothy's story. Directed by Jamie Travis, The Saddest Boy in the World is included in The Saddest Children in the World trilogy (another short I have previously reviewed: The Armoire (2009).
As I did with The Armoire, I once again invite you to watch this film and draw your conclusions.