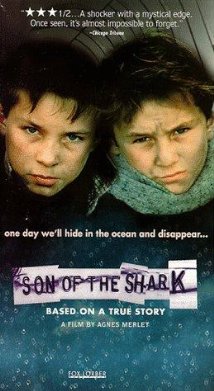 Despite not being a social worker, I am undeniably attracted to movies that shed light on the obstacles young people face. Regrettably, numerous films that tackle the issue of juvenile delinquency may appear plausible but fall short in terms of authenticity.
When youth is concerned, viewers expect an enlightening story with a moral lesson to be learned: learning from mistakes and shaping character. After all, isn't this what the Coming-of-Age genre in cinema is all about?!?
It is pretty common for many filmmakers to underestimate the value of incorporating realistic elements in their educational, entertaining, or dramatic narratives. This can potentially lead to a lack of engagement from the audience and a weaker connection to the story being told.
By prioritizing authenticity and truthfulness, filmmakers can effectively convey important messages and create a more immersive and impactful viewing experience for their audience. Inspired by a true story, French director Agnès Merlet captures the essence of troubled childhood – not missing a single ingredient – from innocence, dreams, and confusion to sexuality and cruelty.
The Son of the Shark (original title: Le fils du requin) follows the harsh life and adventures of two 10-year-old brothers through their rebellion against society, with all its norms and expectations. It can be a formidable task for the audience to recapture their sense of impartiality, impartiality, and discernment. Nevertheless, it is essential to note that not everyone can rise to this challenge.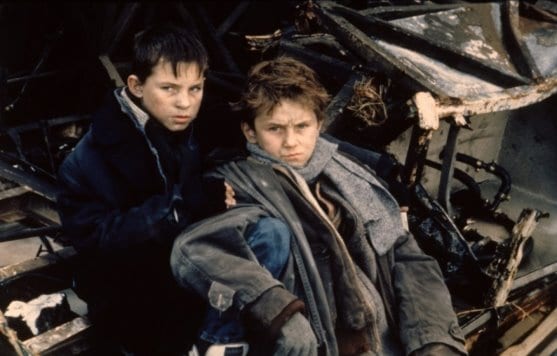 In a narrative filled with a struggle for survival, violence, obscenity, and petty crimes – friendship, love, and humanity still, blossom, although they may seem like unlikely motifs to some viewers. While in many movies, the young protagonists are placed in a passive role, reacting to what's happening without any chance of choice or control, the brothers in The Son of the Shark struggle to retain control over their fate – even if that means involvement in activities that society finds unacceptable or even illegal.
The Son of the Shark makes an important observation about how childhood innocence is something that adults have constructed and given meaning to. It's possible that innocence isn't a natural part of childhood, and this idea can be challenging to come to terms with.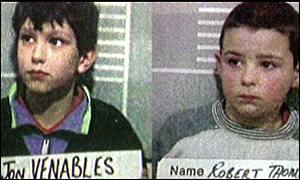 The film may contain scenes that some viewers may find unsettling, as it addresses the challenging topic of youth crime and delinquency. Intriguingly, I found a resemblance in how the actors looked upon booking and a mug shot of two boys in the U.K. who were convicted of a serious crime at the age of ten in 1993 (they remained in custody for over 20 years). See the picture on the left.
Despite acknowledging their wrongdoing, I couldn't help but support the boys while viewing the film. It's possible that their projected tough exterior masked a more profound sense of vulnerability than I could sense.
The movie boasts a remarkable neo-realistic approach to cinematography, undoubtedly adding a unique layer to its overall appeal. Agnès Merlet, the director, has demonstrated her exceptional skills in exploring the emotional landscape of the main characters. She delves deep into their innermost thoughts, desires, and motivations, providing viewers with a captivating and engaging experience. In particular, how she portrays the characters' fantasies is practical and thought-provoking. Frequently the viewers are addressed directly by one of the boys – making his story even more poignant – like a confession.
The natural performances of Ludovic Vandendaele and Eric Da Silva in the lead roles leave little to be desired. The film's soundtrack was composed by Bruno Coulais (who also worked on another French Coming-of-Age masterpiece Les Choristes (2004). The utilization of music in the narrative of this poignant and raw story not only enhances the overall impact but also offers insight into the complex psychological state of the youthful protagonists.
A Clip from The Son of the Shark
The  Son of the Shark offers a refreshing departure from the norm regarding cinematic portrayals. It shuns the reliance on clichéd plotlines and provides a more nuanced, thought-provoking approach to storytelling. Rather than spoon-feeding viewers with easy answers, the film challenges them to engage with the events and situations presented on screen, fostering deeper contemplation and reflection. The humor of Neil Jordan's 1997 Irish tragicomic drama The Butcher Boy is replaced with symbolism and fantasy by Agnès Merlet.
While most young viewers would enjoy the mischief of the two protagonists, after watching The Son of the Shark, I would hesitate to recommend it to young audiences, even if youngsters would be the ones who would be able to watch the film in its entirety without passing any judgment.  It's a task I admit that, in the end, I also failed at.
Film title: The Son of the Shark
Also known as Le fils du requin
Release year: 1993
Director: Agnès Merlet
Cast: Ludovic Vandendaele, Eric Da Silva, Sandrine Blancke, Maxime Leroux, Yolande Moreau and others