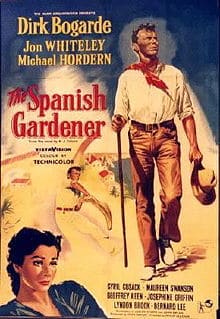 Despite the year in which this movie is made – it is worth seeing nowadays and I am glad that I was able to dig it out of my collection. The Spanish Gardener is a British movie and as such it carries the atmosphere typical for the movies produced in the country. The British consul in Spain moves into the country with his son soon after the boy`s mother left them. The father had some troubles at work and the need to relocate is making him feel miserable. Yet he hopes that the life in the country will be beneficial for the health of his soon who looks a bit lurid at the first scenes of the movie.
The garden in the villa they moved into needs some attention and a local gardener is hired. Soon he is befriended by the boy. Their friendship grows strong – which is not surprising because until that moment the boy has been denied to play with other kids or hang out with friends because of his because of his father opinion that his son is too delicate. Now the boy discovers a whole new words – finally he could louse the suits and ties he is wearing and play as any kid his age would. The gardener is being a great mentor to the kid showing him how to do basic staff in the garden, to fish …etc. As
John Frame
mentioned in his review published at the movie page at IMDB the gardener teaches the boy : " …to enjoy the beauty of nature and the joy of life itself."
The diplomat becomes jealous of his son's close relationship with their Spanish gardener. He loves his child very much – and feels bad that the boy prefers to spend his time with their employee instead with his father.Torn by the jealousy, he contrives to frame the man and have him sent off to jail, but the gardener escapes.
The scenes in the movie are very colorful , which is surprising for a movie shoot before that many years. The landscapes shown are gorgeous and everyone who has ever been in Spain will appreciate them. I did not like the soundtrack much despite of the fact that most professional reviewers regard it as being very good.
Overall the The Spanish Gardener is a good movie which focuses on friendship , mentoring and jealousity. I am hesitating to give a general recommendation for this movie – because its is filmed in a way which would be appealing mostly for people who have deeper interest in the cinema as an art form.