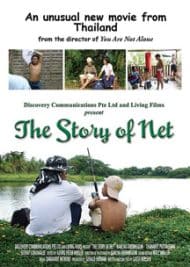 Two years ago, I introduced a new feature film directed by Lasse Nielsen: The Story of Net. Thanks to Discovery Communications Pte Ltd and Living Films, I had the opportunity to watch the movie. The Story of Net focuses on the experiences of one 12-year-old Thai boy. After the death of his mother,  he sets out on a quest to find his father (who never knew he had a son).  As if that isn't a challenge on it own, the little Net can neither speak nor hear, although through the years he has learned to read the lips of the people who speak to him.
Taking into consideration that The Story of Net is a low budget film, I must admit that the quality of the picture and the sound does not suffer from the lack of resources. When it comes to the film's soundtrack, while I liked most of the soft music accompaniment, at times the recording included some classical songs which felt artificial and unsuitable for the premise of the story.
If anyone expects a highly charged drama, The Story of Net will not offer it. Instead,  the film feels like a daily account of life in small village in Thailand. The actors (all amateurs with no previous acting experience) did a good job in the film,  especially the young lead in the role of Net.  He was so convincing in his role that I would have remained with the impression that the boy really can't speak,  had it not been for the Making of Net feature included with the DVD).  The dialogue is in the Thai language, with English subtitles provided.
Whether you will like this film or not is quite subjective. The storytelling is intriguing and, while you are unlikely to be touched by emotional scenes or excited by the action scenes, the film is entertaining in its own way, providing the viewer with a sneak peek into the life of the young protagonist and the people he encounters. The coming of age element is present and things such as friendship, discovery and first-love may intrigue the most devoted fans of the genre.
The DVD of the film can be purchased from Discovery Releasing