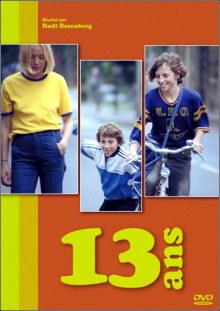 Falling in love – the universal rite of passage experience that can be both beautiful and confusing, and most boys feel pretty awkward in revealing their feelings. My 13 (original title 13 ans) is a delightful short film from France that gives a unique twist to the otherwise familiar first love narrative.
Director Rudi Rosenberg manages to capture the dimensions of the teenage world by telling the story of Jonathan, a young boy who falls in love with Julie, the most popular and pretty girl at his school.
Unable to gather the courage needed to speak with Julie, Jonathan formulates a plan to steal her personal diary, which he believes would reveal to him the way to impress his beautiful crush. The plan includes befriending Julie's brother Charles who is Jonathan's classmate. Thanks to Charles, Jonathan gets an invitation to a party at his house – a party during which he tries to look cool and confident, which is a challenging task since the girl he secretly likes is so close to him. While at the house, Jonathan manages to steal the diary, excuses himself and heads home to read it. On one of the pages of the diary, he finds a drawn heart and the name …Jonathan.
He is overjoyed until he finds out the diary is not Julie's….
My 13 is Rosenberg's directional debut. He achieves great results working with the young actors — who deliver sincere and believable performances. Their characters are well developed and dynamic. I was also impressed with the score of the short film – filled with both retro and upbeat music — with songs whose lyrics are closely tied to the story. But undoubtedly the best feature of the movie is its ending – an open one.
I really enjoyed Rudi Rosenberg's film, not only because of its cinematographic qualities, but also because of the memories it brought back. It was not hard to identify with Jonathan, as once I too was in love with the most popular girl of my school (and even enrolled in a fashion model agency, which she was working for at the time). The movie allowed me to relive some of the feelings and emotions, through the eyes of the Jonathan, which is one of the primary reasons for my love of Coming-of-Age narratives in both films and literature.
 My 13 is a refreshing and sensible short film that I highly recommend. It is available for free on YouTube and Vimeo, but unfortunately only in French and without subtitles. English subtitles are available online for those who would require them.
Watch 13 Ans in its entirety below :