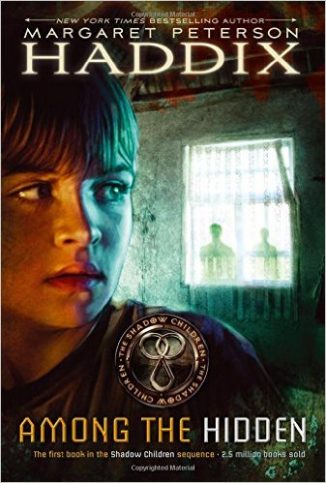 I'm always looking for a good Coming-of-Age novel to read, and I recently discovered Among the Hidden by Margaret Peterson.
The story is set in a dystopian future. The government has enforced strict laws to limit the population by allowing families only to have two children – a third child can't exist – at least not legally. Yet when the story opens, we meet Luke, a twelve-year-old boy with two older brothers. Yes, Luke is a third child, and, as such, he has spent his entire life in hiding:
"…He had never disobeyed the order to hide …Luke didn't know if there was anyone else like him. He wasn't supposed to exist."
Breaking the population law comes with some serious consequences, which is why Luke's family makes sure their third son is not discovered, especially by the population police, who are always on the lookout for third children. This has forced the little boy to live a secluded life, never to leave his house, unlike his older brothers Mark and Matthew, who are free to live in the full sight of the whole world.
One day, disobeying the strict instructions of his father, Luke sneaks a peek into a neighbouring house and, to his surprise, sees a face in one window — a child's face, a face that's not supposed to be there. Risking a lot and possibly his life, he decides to sneak into the neighbouring house and, once there, he meets Jen Talbot – a young girl just like him…or not.
Jen is a member of the elite class, yet still a third child just like Luke. She reveals her secret plans to rally to overturn the Population Law that makes third children illegal. But doing so will expose her and her newfound friend to huge danger…which really scares Luke: "Just my luck, Luke thought. I finally meet another third child, and she's absolutely crazy."
Among The Hidden – Book Trailer
The novel's chapters are concise and almost always end in a manner that makes one anxious to start the next one and find out what will happen – much like the endings in a television serial. This, and the fact that Among the Hidden is undoubtedly a Coming-of-Age novel with a 12-year-old protagonist, makes it suitable for kids and teens who will associate with the character.
The novel's story as allegory perfectly fits the sentiments of a wide variety of modern-day minorities, societies and even individuals (such as myself as at the time of reading I can identify with Luke based on common experiences and observations), all of which makes it an intriguing read for older readers as well.
Despite the short chapters, the pace at which the narrative develops is not a rapid one. Yet, as it reflects on the existence that Luke is forced into, it is accurate and allows the reader to really get to know him and his world (both inner and outer).
Although we perceive the world through a young boy's eyes, one is guaranteed to compare the state of and beliefs of the society he lives in with several we know from history. As making those parallels between the story world and the one in which we live is a big part of the enjoyment that one derives from the novel, I won't describe my own findings. Still, I will mention that the manner used to describe the world is similar to George Orwell's in his dystopian novel 1984.
Among the Hidden is the first of seven novels in the Shadow Children series, and it is so good that it has me impatient to start the next book. For those looking for an exciting Coming-of-Age novel to read, I highly recommend Among the Hidden.