The Boy Alexander and His Rise to Power

I first heard of Fire from Heaven (The Novels of Alexander the Great) by Mary Renault while reading another Coming-of-Age novel whose young protagonist, interestingly enough, also bore the name Alexander.
With one good book leading to another, I soon found myself greatly enjoying the story of the boy who grew up to become one of history's most known and respected leaders.
The voyage from boyhood to manhood of the young prince of Macedon is comprehensively portrayed. Relying on true historical sources as much as possible, author Renault describes events from Alexander's childhood, starting from the age of four.
The novel reads both like an adventure and a memoir, with abundant references to Greek mythology. It contains Alexander's personal remarks and those of others who witnessed his upbringing.
"He was fond of the boy, who seemed to belong nowhere: too bright for the seven-year-olds, though not yet seven; too small for the older boys."
While the narrative is filled with historical and mythological references, it doesn't feel like reading a boring textbook as the manages to explore the childhood of Alexander the Great credibly, yet movingly.
When Alexander reaches the age of seven, his tutor subjects him to a training inspired by the traditions of Sparta, which was aimed to "rear disciplined boys, hardy, uncoddled and respectful ". It's training that his father encouraged but his mother disliked. "Sparta, symbol of past tyranny and present oligarchy…." Attention is also paid to the young Alexander's scholastic training as well as well as to the life-lessons that shaped his personality – such as the answer his mother gives to his complaints when she curls his hair before his appearances before guests in the royal palace:
"Mother, you must stop curling it. None of the other boys have it done….
What is that to you? You lead, you do not follow.."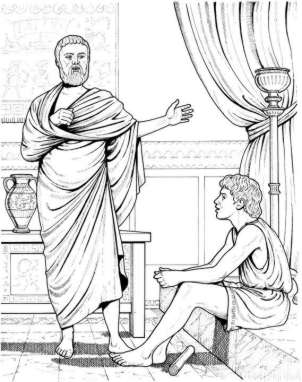 The emphasis that Mary Renault lays on the lifelong close friendship of Alexander and Hephaistion is essential to the book. It's a friendship much like that of the Greek heroes Achilles and Patroclus and has become an ideal and a model of purity and reliance. With Aristotle being a teacher of young Alexander, it will come as no surprise that the book inspires the values of self-reliance, love and friendship in its readers:
"…they discussed friendship often. It is, they learned, one of the things man can least afford to lack; necessary to the good life, and beautiful in itself…Friendship is perfect when virtuous men love the good in one another; for virtue gives more delight than beauty, and is untouched by time…"
One of the best values found in Coming-of-Age narratives, both in cinema and literature, is that one is able to learn a lot about life while at the same time reflecting on his/her own experiences — drawing parallels between them and those of the protagonists of the book or movie.
Fire from Heaven is filled with wisdom about life and gives a lot of food for thought to its readers, young and old alike. I ended up highlighting a lot of phrases, both to use in this review and for safe keeping. The phrases impress, even if taken out of context. But when one discovers them within a moving novel, they and their meanings engrave themselves in the readers mind.
At half-length I was thinking that novel would lose its appeal,  ceasing to be a Coming-of-Age narrative as Alexander left his boyhood days. Yet, as I read I found myself drawn to the decisions that he had to make – some as daring and mysterious as those of his youth. When I finished the book, I found that I had rediscovered my appreciation for the historical figure of Alexander the Great. I am in awe of the skillful craftsmanship of Ms. Renault.
Having enjoyed the book, I won't hesitate to highly recommend it — even to those who have little interest in historical literature – as it greatly manages to keep one's interest in its narrative.
"Time had misted the hardships; it had the taste of vanished youth."