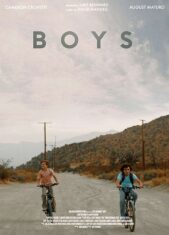 Two boys let their imaginations run wild in Luke Benward's 2021 short film Boys, but soon the fun and games come to an abrupt end.
The story juxtaposes innocence and guilt, which further accentuates the moral quandary that the film's protagonists (and, by extension, the audience) find themselves in. Other short films have explored similar themes, such as Good Machine Gun Sound (2014) and Thomas (2013) – and it is the contemporary nature of the settings and characters that sets apart Luke Benward's short. The musical score fits well, raising tension in the appropriate scenes. 
Boys (2021) Trailer 
Cameron Crovetti and August Maturo, who play the two boys in the short film, have previous experience in front of the camera and bring their roles to life realistically and powerfully. Excellent cinematography is another noteworthy aspect of the film since both camera positions and framing are performed flawlessly over the course of the narrative.
Even the simplest of acts may result in devastating consequences. That is one of the motifs in films that ties in nicely with the overall depiction of one's loss of innocence.
The film premiered at the L.A. Shorts International Film Festival and is available for streaming at the festival`s own platform.