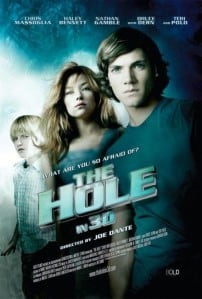 A house you just moved into. You don't know the town, you don't know the neighbors, you don't know who lived in the house before you.  And then, in the basement of your new house, you find a wooden lid well secured with several iron locks. Would you open the lid? Would you take your chances to discover what hides beneath it? Will your curiosity put you in danger?
The Hole (2009) is a horror film which tells the story of an American family that moves to a new house in a small suburban town. The family consists of a single mother Susan (Teri Polo), her teenaged son Dane (Chris Massoglia) and his kid brother Lucas (Nathan Gamble). The mother is busy making a living for herself and her boys, so the two boys spend a lot of time by themselves. While exploring their new home, they discover a locked lid on the basement floor.  Boys will be boys – the brothers can't resist their curiosity and find a way to open the lid, only to discover a dark and seemingly bottomless hole underneath.
The Hole intends to be a horror story suitable for a young audience and it succeeds at that. Its "spooky factor" is significant and is comparable in that way to such films as The Orphanage (2007)  or The Devil's Backbone (2001) . The directing and editing of the film are also excellent which, combined with a musical score by Javier Navarrete (Pan's Labyrinth), results in some really chilling scenes that are guaranteed to give you a thrill.
Nathan Gamble delivers an exceptional performance as Lucas. He is so convincing in his role that, once you see the film, you'll understand why he is often thought to be one of the most talented young actors nowadays. You may recall Nathan's role in Stephen King's adaptation of The Mist, where he made an impression on viewers as the young Billy Drayton, despite the limited time he spent on screen. Having that prior experience of starring in a horror film helps Nathan's portrayal of the young Lucas in The Hole.
The negative aspects of the film are mostly related to the story itself, which gets too predictable and is far from being original. Readers probably remember at least a few films with a script similar to that of The Hole. I'm sure those films were influential and were an inspiration for Mark L. Smith, who wrote the script of this film. In addition, in tune with the newest trend, The Hole is presented in 3D which, however, doesn't really enhance the film's atmosphere.
[nggallery id=147]
Film title: The Hole
Release year: 2009
Director:  Joe Dante
Cast: Chris Massoglia, Haley Bennett, Nathan Gamble, Teri Polo, Quinn Lord, John DeSantis, Douglas Chapman, Mark Pawson, Peter Shinkoda, Jonathan Bruce, Merritt Patterson and others