"Love. It's very hard to find. But I will love and will be loved."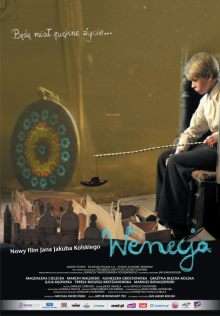 As my interest in European cinema grows, I keep discovering Coming-of-Age films from Eastern Europe that never fail to make a huge impact on me. The 2010 Jan Jakub Kolski  film Venice is one of them.
Based on short stories by Wlodzimierz Odojewski, the movie is set in Poland with World War II as its backdrop and tells the story of Marek (Marcin Walewski).  Marek is an eleven-year-old boy who, for safety,  is sent to the countryside villa of his aunts and female cousins while his father and older brother are summoned to the front.
Early in the film, it becomes clear that Marek and his relatives belong to the privileged class in Poland.  He attends a military school, wears fashionable costumes and his aunt's villa brings reminisces of a manor.  Marek's parents frequently tour Europe and thus far only his age has prevented him from accompanying them on one of their trips to the city of Venice.  It's a city for which he has developed an obsession, thanks to his parents' stories and what has undoubtedly been his first-class education. When finally Marek is told that he can accompany them on an upcoming trip to Venice, the much anticipated excursion gets put on hold by the outbreak of the war. The boy is not happy at the home of his aunt.  Marek doesn't want to be there, but manages to find asylum by building a the replica of his dream city in the flooded basement of his aunt's house.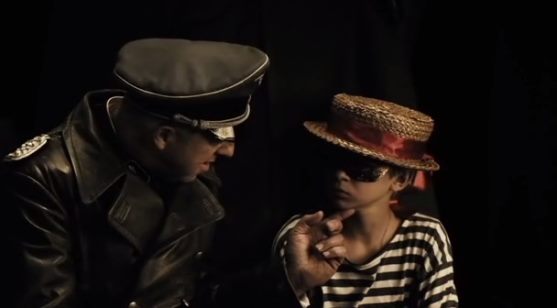 An encounter with a Nazi  officer
I have seen my fair share of Polish Coming-of-Age movies and have found their narratives captivating and appealing. They avoid the meaningless action and over-dramatization that often characterize Western productions and seem to focus on the psychological development and exploration of human nature. Venice makes use of inner monologues and a stream-of-consciousness style of storytelling, which is especially effective when used in Coming-of-Age stories. This technique allows the audience to get into Marek's inner world and get a sense of his thoughts and character, and see what motivates, excites or frightens him. It effectively reflects on the disorientation and confusion that Marek feels witnessing the change in his environment and the people he knows, which are imposed on him by the war.  He not only has to make sense of the outside world, but also of the adults that surround him.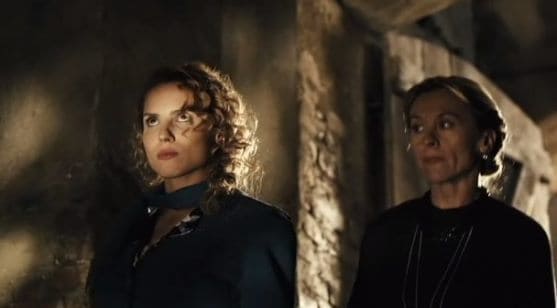 Marek's relatives
Great direction and storytelling are aided by stunning cinematography. Venice uses an intriguing vintage color scheme that helps to establish the time period when the action takes place – making the audience aware that what they are about to see has happened in the past.  But that's not all. At one point during my viewing of the film, its visual style, perspective, focus and  lighting felt really familiar to me.  Later, when I saw who the director of photography was for Venice, I was not surprised to see the name of Arthur Reinhart, whose work I have already praised in reviews of the 2004 film Jestem (I Am) and 2011's  Jutro bedzie lepiej (Tomorrow Will Be Better).
The  highly creative camera movements in some scenes boost the artistic value of the movie. A hand held camera was utilized in portraying a sudden air raid, which interrupted the laid back pace of the movie – shocking characters and audience alike. In Venice, Arthur Reinhart worked with director Jan Jakub Kolski, who is considered to be the founder of the "magical realism" trend in Polish film-making.
And magical realism is probably the best term by which to describe Venice.  Visual poem is another, more clichéd way to describe the film.  I don't hesitate to apply either term to this film because of the beautiful aesthetics in Venice.  From them, the viewer will derive much enjoyment and appreciation. The musical themes of Polish pianist Frédéric Chopin provide additional nuances to the visuals, boosting the depth of their emotional impact.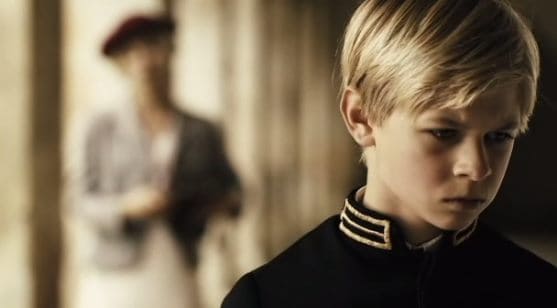 Marcin Walewski as Marek in the 2010 Polish Film Venice
The characters are believable, even though the behavior of Marek's aunts  seemed a bit too weird to me.  Some characters could have been better developed, but the lead character of Marek, from whose perspective the story is told, left nothing to be desired. Marcin Walewski portrayed the emotions of his character in a unique and very complex manner.  At times, he seemed weak, unsure, common.  But at other times he came across as strong, determined and aristocratic.  The result was an accomplished performance that one would typically expect from an actor with many more years of big screen experience (before Venice Marcin had mostly starred in TV productions).
Venice is almost two hours long and I can honestly state that I truly enjoyed every single minute of it. The story's overall pace is laid back, with several sudden changes that provide suspense and the desire to know what will happen next. I'm not sure I understood the ending as, while it made sense to me, some of the reviews I have read (like the one written by Dennis Harvey at Variety) suggest that I may have misinterpreted it. I'd love to hear the interpretations of our readers who have viewed Venice.  Please comment in the space provided below.
In the end, I don't hesitate to highly recommend the film. It's been added to my must see list for anyone interested in Coming-of-Age cinema, European cinema or simply in beautiful film-making.
Venice: Official Trailer