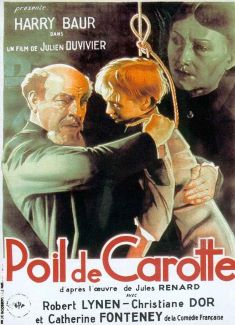 Having reviewed many new releases in 2012,  I decided to explore some of the classic Coming-of-Age movies that have left their mark on the genre and cinematic culture as a whole. Such movies are frequently found in the French and Italian cinemas, and some have been previously reviewed on the site: the 1966 movie Incompresso, the 1973 film The Last Snows of Spring, and 1964's This Special Friendship but a few.
I have chosen a French film for today's review: The Red Head (Poil de carotte), which is based on an autobiographical novel by Jules Renard published in 1894. It tells the story of Francoise Lepic,  a young boy who struggles for the acceptance and love of his family. Francoise spends most of the year at a boarding school, but, unlike his classmates, he is not looking forward to the summer vacation he is to spend at home with his family. 
A distant father and an embittered mother who doesn't miss a chance to correct his behavior, an older brother and sister. So dysfunctional is his family that Francoise defines it in the following way:  
"A family is a group of people forced to live together under one roof, who can't stand each other."
Such a definition suggests a strange state of mind, yet the story provides plenty of explanation for it by following Francoise's trials and tribulations during his summer vacation. Will the young Francoise find a way to stand up for himself? Will he find happiness, or will his story end tragically…?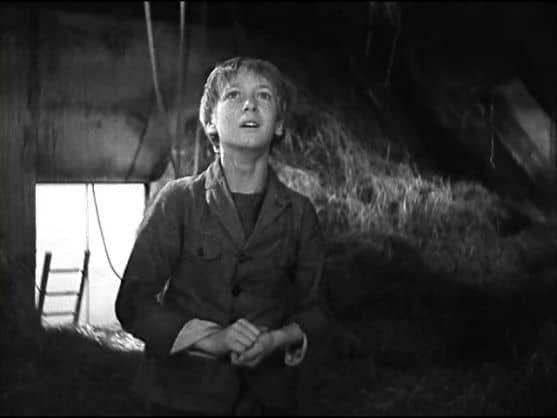 Robert Lynen as Francoise Lepic in Julien Duvivier's Poil de Carotte 
Watching films in black and white is a whole different experience on its own. Most film schools would suggest viewing such movies to understand how lighting can convey meaning. The 1995 American thriller The Night of the Hunter is frequently used as a reference (a film featuring Coming-of-Age themes). Yet one does not have to be a movie buff to enjoy a movie shot in black and white – especially in such a poignant and moving drama as The Read Head. Seeing the excellent cinematography, a film released 80 years ago exhibited while comparing it with the mediocre quality of photography in the mass-produced movies nowadays (despite the much-advanced technology) is a real eye-opener. Close-up shots of Francoise's face allow the viewer to feel his emotions and sense his mood.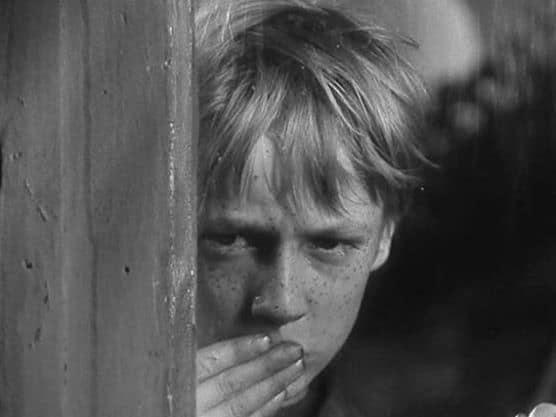 Robert Lynen as Francoise Lepic: Expression 
The tension builds as the story progresses, and so does the viewer's involvement with the little boy's fate in search of love and acceptance. Regardless of your age and interests, you will wish that it all ends well for him.
Director Julien Duvivier deserves admiration for his work with Robert Lynen – who had never acted before winning the role of playing Francoise Lepic in this movie. The young actor's performance, the way he expresses cheerfulness, sadness, anger, and confusion, is undoubtedly responsible for the film's unique appeal to any fan of the Coming-of-Age genre and the immense success of the film when it was released. Robert Lynen became one of the most acclaimed young actors in the French cinema, comparable to such latter-day talents as Haley Joel Osment, Henry Thomas, and Barret Oliver. The cinematography and directing of classics such as The Night of The Hunter and The Read Head have influenced modern-day filmmakers such as David Lynch, Martin Scorsese, Steven Allan Spielberg, and many others.
I don't hesitate to recommend Julien Duvivier's film The Read Head highly. It impressed me with its profound and dramatic story, excellent cinematography, and the fantastic acting performance of the young lead (whose other movies are now on my Must See list). The film is a wonderful choice as a starting point in exploring classic cinema and is suitable for all ages (in the same way as Cinderella is). Copyright laws no longer cover films released before 1969,  so you may be able to find a copy of the movie on any streaming service such as YouTube.
http://www.imdb.com/title/tt0023345/reference/