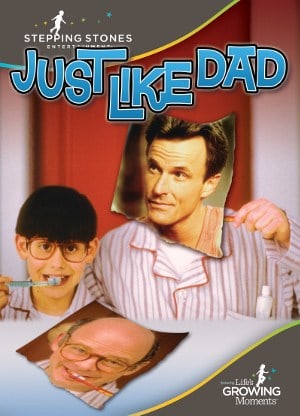 The 1995 American film Just Like Dad does not shine with an original or poignant storyline, yet its easy going family-friendly nature turns it into a perfect choice for a laid back Sunday afternoon. Made for TV and directed by Blair Treu, the movie tells the story of twelve year old Charlie (Ben Diskin).
Charlie's small stature and wimpy looks turn him into an ideal target for the school bullies, and while he is not the only kid being bullied (his best friend Sherwood (Jarrett Lennon) is frequently subjected to similar treatment), he is desperately seeking a way out. Unfortunately for Charlie, his dad (Wallace Shawn) is a nerdy scientist, bullied on his own by his colleagues at work. His dad's solution is to pay the bullies so they will leave him alone.
Seeing no other solution for his problems, Charlie decides that the only way to achieve a better status at school is to win the father-son completions at the next school picnic. As his own dad is anything but athletic, Charlie decides to recruit a pretend father from the local bodybuilding club as a substitute. He is successful in that undertaking, but then things do not go exactly as planned.
Just Like Dad – Trailer
The film does include Coming-of-Age motifs and with a good moral lesson (even if it feels bit forced on the audience), but probably its best feature is the acting performances.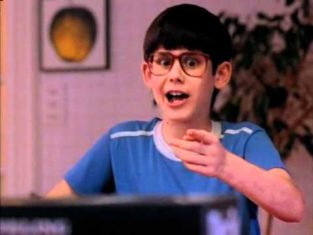 Most notable are the performances of Ben Diskin and Jarrett Lennon (both actors are charismatic and interact well with each other). Although the film is categorized as comedy or melodrama, it doesn't feature that many funny or melodramatic moments. And, when it does, they are of the light kind. This does not necessarily turn it into a bad flick as it manages to remain entertaining and never bores its viewers. Added bonuses are the scenes with computer usage, as the technology appeared so "advanced" in 1995 — not!
Just Like Dad is not likely to leave long-lasting memories in its audience, but it's a good way to chill out in front of the TV. Young kids may also find it entertaining, as some of the scenes are shot with a naivety that I'm sure will appeal to them.
[imdb]https://www.imdb.com/title/tt0113502/reference[/imdb]
Summary
An easy going family-friendly flick that turns into a perfect choice for a laid back Sunday afternoon.