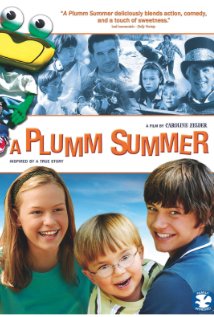 If you are looking for a charming little film to cheer you up, you can't go wrong by choosing A Plum Summer. While it's true the story targets pre-teen audiences, and while many scenes appear a little silly or even bizarre at times, there is a certain appeal to such feel-good films even if one sees them as escapist entertainment.
The action in A Plum Summer takes place in Montana, USA, during the early 1960s. Kids all over the state have a favorite character – Froggy Doo – a marionette featured in a local TV show alongside a wizard and a story-telling genie.
While doing a live appearance for its affectionate young fans, Froggy Doo is kidnapped and held for ransom. A teenage boy, his young brother, and the girl that recently moved into town decide to do their own investigation — aiming to rescue Froggy Doo and bring smiles back  on the children's faces.
Essentially A Plum Summer is a children's detective story – in the style of The Hardy Boys. Yet, somehow, the screenwriter managed to throw in some Coming-of-Age experiences (first love, loyalty, and dealing with bullies — to mention but a few) and even address serious issues like parenting, taking responsibility, and dealing with addiction. While I doubt the appropriateness of mixing issues, one would expect to find in a drama film in a lighthearted adventurous comedy, the film's Coming-of-Age nuances guarantee that older viewers will enjoy the movie as much as a young audience.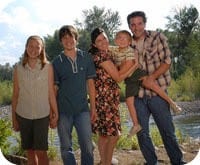 Beautiful cinematography characterized by bright colors and stylized images of small-town America ala Norman Rockwell (the most memorable scene is a full moon passing behind the trees). Combined with outstanding production design and a great soundtrack, all that effectively transform the film into a nostalgic period piece.
Nevertheless, the film's best feature undoubtedly is its young cast – the Elliot Brothers (Owen Pearce and Chris Massoglia) and the beautiful Morgan Flynn in the role of Haley Dubois (the girl helping the boys resolve the mystery of the stolen puppet). I especially enjoyed the witty dialogue and adorable appearance of Owen Pearce – a little heart grabber guaranteed to make one smile with his baby/little boy talk.
It's disappointing that, while the film opened with a first-person narration as the teenaged Elliot brother recalled the events that took place that summer, the objective point of view gradually took over — distancing the characters from the viewers. But I realize the film is an adventurous comedy and, unlike my favorite Coming-of-Age dramas, it has to utilize different techniques to tell its story.
While A Plum Summer is not likely to be a film I will be referring to in the future (or even remember a week from now), it is enjoyable to watch. Not a classic yet perfect family-friendly entertainment with which to spend an evening.
Official Trailer