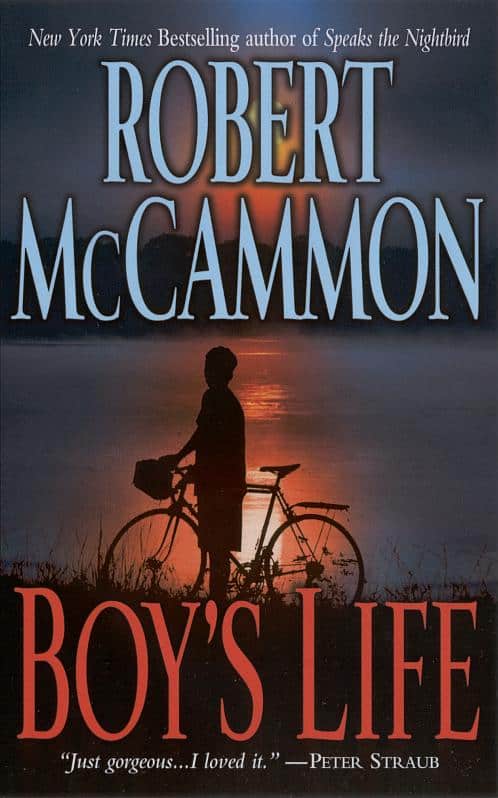 I have been always into reading in books . Some movies are awesome – but nothing can be compared with the insight that the book can give you nor to the fantasy world you can get to while reading it . Out of the hundreds book I have read some stuck to me – its the same with movies in a way – one of those books is Boy's Life by Robert McCammon.
I got myself the audio presentation of the book ( some 12 hours worth of audio ) and departed for the world created by the Robert McCammon. ( I can also say that I departed back to myself – to my memories of being a boy – just like Cory ).
The narrator is the 12 year old Corry – and soon after I associated with him and his adventures ( the author associated with another character from his story Vernon – but I will let you see for yourself the reasons for that). As a protagonist of the story he was growing and changing throughout the novel in many ways. He learns that there are many dangers when one goes against the crowd, or has different beliefs. When I finished the book I was so impressed that decided that this coming of age classic could easily become a theme book on my entire blog.
The book is a prime example of a coming of age masterpiece – and it is not just the name that hints this to the reader. I don`t remember seeing , hearing, reading or watching anything else that was able to so accurately and fully describe this rite of passage period.
The books leads to to almost all aspects from the life of a boy. Best friends, bullies, evenings at the cinema and that brand-new bike. McCammon describes each of these themes in an unique way that takes you back to your own experiences.  One example of that is a passage at the beginning of the story in which Cory sees Invaders from Mars at the local cinema.  The impact that film had on him and his friends was so neatly described that you will remember those the moments spent in the movie theater after the lights went off and how you felt after seeing a really good movie. I was ready to sail away after seeing a movie with pirates, and was horrified to go outside in the dark after seeing Stephen King's,  IT.  Things haven't changed for me a lot.
While I was reading about the accident with Corry's dog I saw myself, warm tears on my cheeks, holding my puppy in my hands screaming at the veterinarian that he has to save my dog. That whatever sickness got into it could be cured. Then as with Cory, I learned to deal with death. Death that McCammon describes as a lonely young boy.
I really got into the story and by the middle of it I felt like a resident of Zephyr, Alabama. Cory Mackenson was my close friend up to the point at which I screamed to Cory and his friends to wait for me as I peddled my bike.
I would like to borrow a quot from the review by Gene Lyons published at the author's web site :
"See, this is my opinion," McCammon's narrator, Cory Mackenson, tells us: "We all start out knowing magic. We are born with whirlwinds, forest fires, and comets inside us. We are born able to sing to birds and read the clouds and see our destiny in grains of sand. But then we get the magic educated right out of our souls. We get it churched out, spanked out, washed out, and combed out. We get put on the straight and narrow and told to be responsible. The truth of life is that every year we get farther away from the essence that is born within us." [3]

The book also provides some intense action, a murder mystery, a horrifying and dramatic flood description. It portrays the excitement, despite the ignorance, of youth. It also included the most amazing description of the feeling of having a new bike and riding it. In fact as an owner of such and influenced by the book I decided to give it a name "Grey Thunder" A item that earned me some odd looks from my mother when I announced it to her. She thought it was odd. But I knew…
The book taught me important life lessons . Such as :
You never know what a person can do until he has to do it.
or about the job of boyhood :
Boy's Life by Robert McCammon – favorite #comingofage book #quote @LoganRocs https://t.co/rlkjrOP4n2 pic.twitter.com/EEJfwYOAoM

— theskykid.com team (@theskykidcom) December 17, 2015
and :

If this had been a television show, it would have been time for a commercial. But real life takes no pauses.
I say Boy's Life is not about lost innocence, because I believe we all maintain the pool of innocence and wonder inside us no matter how far we get away from our childhood. I believe this pool can be revisited, and we can immerse ourselves in its healing water if we dare to take the risk of knowing again the children we used to be.  A mixture of fiction and biography as mentioned by the author himself in his letter to the readers . [1]
In an interview the Boy's Life author mentioned that while his book was not written for a young audience it found a huge audience among them. It is now taught in high schools across the country. This makes me a bit jealous of the American kids the same way I felt when I discovered another favorite book of mine – Rule of the Bone by Russell Banks while I myself attended high school in the USA.
I recommend highly, Boy's Life by Robert McCammon and would like to finish my review with a quote from it :
The years of a boy's life pass so fast, Cory. Boys want to hurry up and be a man and then there comes a day they wish they were boys again. No One ever grows up. They may look grown up, but its a disguise. It's just the clay of time. Men and women are still children. Deep in their hearts they would still like to jump and play, but that heavy clay won't let them. They would like to shake off every chain the world has ever put on them. Take off their watches, neckties and Sunday shoes and return naked to the swimming pool. They want to feel free . . . and know that there is a mommy and daddy at home who will take care of things no matter what. Remember! Remember everything and anything. Don't you go through a single day without remembering something from it . . .
If you are reading Boy's Life for the first time, I hope you enjoy it. I hope it takes you to some places you never knew existed . . . or to places that you may have forgotten ever did exist.[2]
[1]A Letter FromRobert R. McCammon link
[2]Why I Wrote Boy's Life R. McCammon link
[3]Entertainment Weekly, Book Reviews, August 30, 1991 link
PS : I may never get a chance to write personally to Robert McCammon, like many of his fans do. But I hope that this review would serve as an open letter of invitation to him. And if he ever stumbles upon this, there is one thing I would  want to say to him.
"Thank you for taking me back ! "