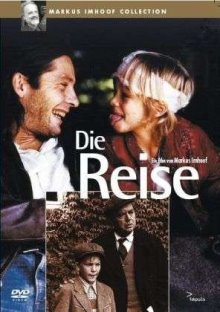 If one is looking for an atypical Coming-of-Age film, Markus Imhoof`s Die Reise /The Journey is a good candidate. Two different times – Germany right after the fall of the Nazi government and then later, during the 1960s — are interconnected by two father/son stories presented in parallel, which makes the film both atypical and challenging to grasp at first.
Arguably the essence of the film lies in portraying the various ways in which childhood experiences shape the personality of an adult. Yet, until a clear connection is established sometime in the second half of the film, the sudden changes of setting and action makes one wonder if it's still the same film or two different films have been purposefully stitched together.
Bertram, son of Will Vesper, the well-known Nazi poet, has had a rough childhood.  Teased at school because of the literary works of his father, he is subjected to strict, abusive discipline at home. Years later, having become a father on his own, Bertram is involved with a radical leftist terror organization. When he discovers that the mother of his son Florian intends to take the child to a camp in Palestine, he kidnaps the boy and together they travel through the country to the house of Bertram's childhood.
Die Reise is based on the autobiographical novel of the same name by Bernward Vesper and is regarded as a realistic portrayal of the German student society in the 60's. Yet unconventional editing weakens its value as a Coming-of-Age film.
While I was genuinely interested in the portrayal of Bernward's youth, a large portion of the film is devoted to his adventures as an adult. If one does not seek the connection between his adult self and his past experiences, the film could pass for a meaningless adventurous timewaster that is neither provoking nor entertaining.
None of the actors leaves any lasting impressions with the exception of  Gero Preen in the role of the young Bertram. Sadly, he did not pursue acting as a career and Die Reise remains  the only film in which he can be seen.