It's that time of year again.  As we begin 2012, we look back over the past year and at the movies that were released in 2011. As the largest online media site  focusing on the Coming-of- Age genre, we are happy to again host the Coming of Age Movie Awards — our fourth consecutive year of doing so.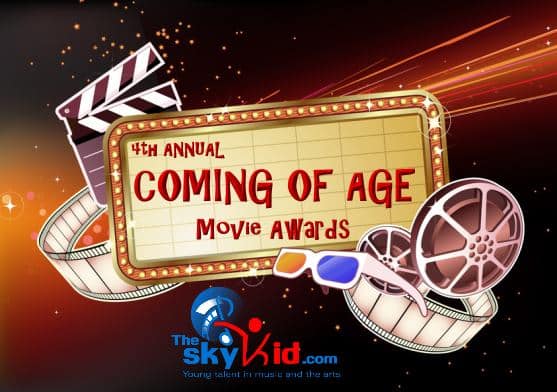 Here's a reminder of what the short definition is regarding what a movie must possess in order to belong to the Coming of Age Genre:
"A Coming-of-Age movie is a film in which the central plot revolves around a person suddenly facing a life changing experience, trial or tribulation. That person, who was once naive or childish or pre-pubescent, is now suddenly older and wiser because of the experience. They see life and their place in the universe for the first time."  Alternative descriptions can be consulted  at the Coming-of-Age Films Definition article.
In 2011, we were fortunate to witness an abundance of movie releases. So many excellent coming of age films were released that an author on our site wrote an article titled  Coming of Age Value in 2011, fueled by the desire to recall the Coming-of-Age masterpieces that deeply moved him personally and delivered a cinematic experience to remember.
We had over seventy films from across the globe competing in the traditional categories that TheSkyKid.com has established: Best Acting, Coming-of-Age Value, Best Newcomer, Best Cinematography, Best International Film, Best Short Film, Special Soundtrack and Best Performance in A Film Made for TV.  All films deserved to be nominated, but as this is impossible – we have decided to include a list of all movies we worked with as a reference to you. Additionally, all films – nominated or not – will be included in the Ultimate Coming-of-Age movie list we maintain here on the site.
(Note: only films released in 2011 were considered for a nomination )
The nominated movies and actors are presented below in their respective categories :

Honorable mentions :
"Attack the Block" (2011)
"Frisson des collines" (2011)
"Taken from Me: The Tiffany Rubin Story" (2011)
"The Tree of Life" (2011)
"Harry Potter and the Deathly Hallows "Part II'
"Stupid, Love. "(2011)
"Bringing Up Bobby" (2011)
"Horrid Henry: The Movie" (2011)
"Nicostratos le pelican" (2011)
"Insidious" (2011)
"Spy Kids: All the Time in the World" (2011)
"Judy Moody and the Not Bummer Summer" (2011)
"Submarine" (2011)
"The Time That Remains" (2011)  Israel
"Foster" (2011)
"Just Henry "(2011)
"The Strange Ones "(2011) a.k.a. "Deux inconnus" (2011)
"The Great Ghost Rescue "(2011)
"Wasted Youth (2011)
"Le Fils à Jo (2011) – Philippe Guillard
"Les Tuche "(2011)
"Der ganz große Traum" (2011)
"Hyvä Poika / The Good Son" (2011)
"Amors Baller "(2011)
"Snowtown "(2011)
"Schellebelle 1919 "(2011)
"Chillar Party" (2011) India
"Sonny Boy "(2011)
"Monsieur Papa" (2011)
"Mon Père est Femme de Ménage" (2011)
"Les Tuche " 2011
"Adventures of a Teenage Dragonslayer "(2011)
"Cooper and the Castle Hills Gang" (2011)
Voting is open until 1-March-2012. The winners will be announced on this web page, via an article and a press release, which will be updated to include detailed information for the films that receive recognition each consecutive year.   Happy Voting!!