In 1994, Hanson released  their first independent record. In 1997, the band released  Middle of Nowhere – an album which sold more than ten million copies. The band achieved  word wide  success and in 1998 was nominated for three Grammy Awards: Record of the Year, Best New Artist, and Best Pop Performance by a Duo or Group with Vocal.  An army of devoted fans followed every step in their success – I am one of these fans. Their music is  the soundtrack of my childhood. Today they are rocking the world again – making me proud, proud that I was with them all this time, proud that they kept their promise to keep making music inspiring thousands of young artists around the world .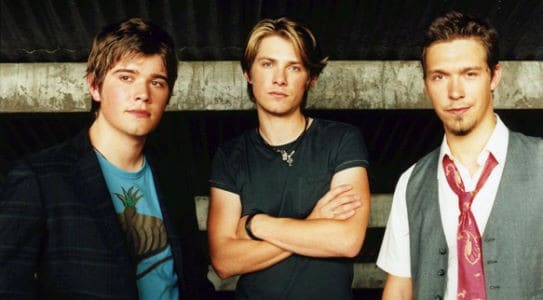 The band is currently hosting an exclusive five-night engagement at New York City's Gramercy Theater – five nights during which the band is performing, in its entirety, one of their previous albums —  leading up to a worldwide premier of their new album tomorrow (30th the April 2010).  Each of these concerts is being streamed live at their official livestream page – tonight (8pm EST) the band will perform the songs of  The Walk – their 4th Studio Album –  released on the band's own independent label, 3CG Records. I am going to be watching and I highly recommend that you watch it too. They will amaze you – of that I have no doubts.
Yesterday I was watching their 3rd concert of the five in which they were performing the songs from Underneath. It was a great concert, I could not help it and got overly emotional when they came onto the stage. Every song, every word they said was touching something deep inside me. Pure magic, the music of Hanson rocking the world once again!