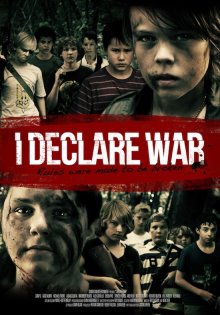 Are you ready? Really ready? For a WAR? Because I am and I DECLARE WAR!
Now that I got your attention, I'll tell you about a film I just saw that's wickedly cool and creative —  its title: I Declare War. Nothing you can read or see can prepare you for the experience of seeing this 2012 film.  It is unique! And that is a statement coming from a person who has seen hundreds of Coming-of-Age films.
Directed by Jason Lapeyre and Robert Wilson, I Declare War can be anything you want it to be: a war film, a drama, a romance, sci-fi, an adventure or a  Coming-of-Age. And, if you prefer, you don't even have to choose because it's all those in one.
Essentially it is a film of a game – a game of war between two rival groups of boys.  Think Stand By Me and War of the Buttons, both of which have clearly inspired Jason Lapeyre (who wrote the script in addition to co-directing the film).  This tale is told with realism and fantasy mixed together as ingredients. Getting skeptical? Wondering why I would rave about a "childish film that focuses on a game …?"
The answer is – because it's real! The film features first-class cinematography, which you would expect of an immense war-themed production like Spartacus or Rambo. The boys may be playing with wooden sticks, water balloons, binoculars or flying model planes, but they imagine and believe it's a real war – so much so that the viewer starts believing too. Can you resist? I didn't think so!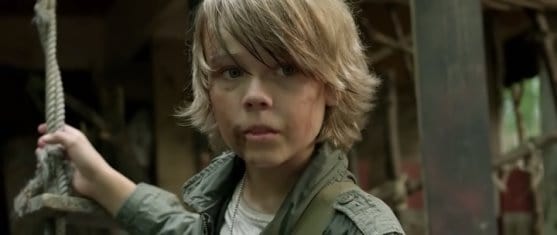 What makes this film seem so real?  Well, to start with, the talent of the young cast and the devotion with which they play their roles. Each team is unique,  comprised of unique "soldiers" with distinct personalities, strengths and weaknesses. There's the Lone Ranger, the altar boy, the clever tactician, the mean enemy, the superhero, the leaders and the followers. During the course of the story you get to know each character by observing the kids who embody them.  And just when you think you know them and can predict their actions, they manage to surprise you.
The film features stunning visuals, crisp images and brightly lit scenes.  Realistic war audio effects are used throughout in such an effective manner that one feels in the midst of real battlefield action.
The narrative is filled with suspense, action and drama – cleverly scripted in a manner that won't let you feel bored for the entire screen time of over an hour and a half. If you want to witness how clever direction and cinematic magic can transform an ordinary event into an extraordinary story, I Declare War is the film to see!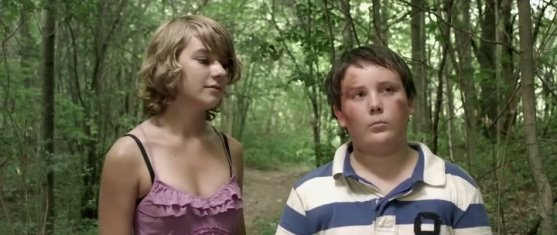 As soon as the final credits were rolling, I felt the impulse to get outside to play my own war games.  I'm positive that if there were pals around at this hour I would have not hesitated for a minute. That's how inspiring this film is. It made me recall a series of laser tag games I once played in New England, at which I was very good.  My teacher told me that my being from the Balkans explained why I was so good at it (with the reputation soldiers from that region have).  Growing up, my friends and I always played war themed games in the hills of the village where I spent my summer vacations – games that felt equally realistic to us then as the film now feels to its viewers….
I Declare War delivers a unique movie experience. Kids will love it – it's tense enough to excite, yet perfectly suitable for audiences of all ages. I've struggled to think of a flaw to mention to balance out this review, but since nothing comes to mind – I will simply declare that I highly recommend it!
I Declare War  Official Trailer
http://www.imdb.com/title/tt2133239/combined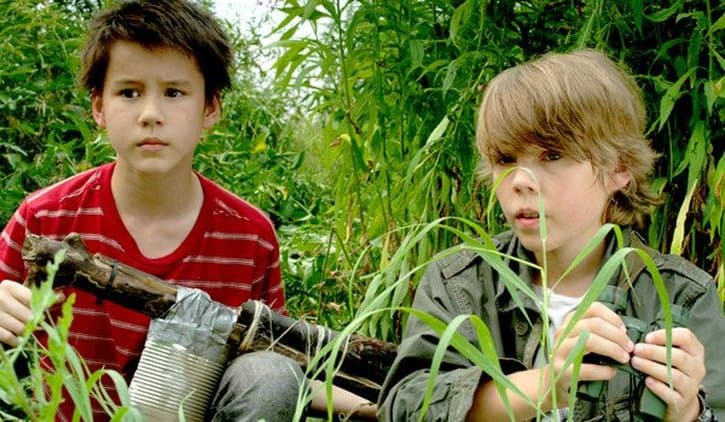 Summary
I Declare War  delivers a unique movie experience. Kids will love it – it's tense enough to excite, yet perfectly suitable for audiences of all ages.