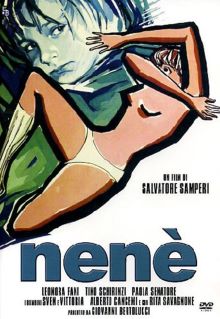 "Beautiful things are difficult to understand"
Very few movies feature narratives which focus on youth sexuality without being exploitive, manipulative or filled with fictitious happenings. Savatore Samperi's film Nenè is one that avoids those pitfalls. While its plot doesn't feature suspenseful scenes or surprising story twists, it genuinely portrays the voyage  of a seven-year-old boy and his 14-year-old cousin, from childhood to adulthood.
It's the late 1940s in Italy.  WWII is over, but society the world over still bears its scars. In a remote countryside, one family of four occupies a big villa: a young boy, his older sister and their parents. The father makes little money and his wife always complains for what she sees as "the peasant life" she is forced to live. Those complaints often result in a violent outburst of anger from the father — victimizing his spouse or children.  
Ju (Sven Valsecchi) is a cute and innocent seven-year-old boy – curious like most kids his age about such things as love, kisses, women's breasts and generally the difference between sexes. He is still naïve, although he claims a complete understanding of what he sees or hears about. When his cousin, a 14-year-old orphaned girl, moves in with the family, Ju discovers an opportunity to satisfy his increasing curiosity about the female sex. It is that curiosity, and the feelings that result from it: confusion, jealousy, excitement — that eventually results in the little boy discovering the world that surrounds him. But it all comes at a price – his innocence …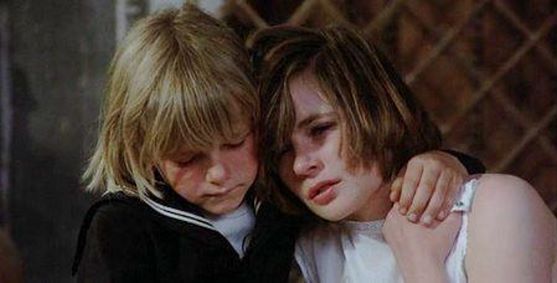 Ju's cousin Nenè  (Leonora Fani) is a teenager who, like most adolescents, defies authority and rules for the sake of freedom, self-expression and discovery. She admits to her little cousin that she doesn't feel like a child despite the manner in which his parents treat her. But that doesn't stop her from joining Ju and his sister in their games.
One day the kids meet a mulatto who is about 20 years of age. Nenè falls in love with the older boy and, unsure of what she must do, confides her feelings to Ju. She even practices a "real" kiss with him. Nothing shocking or sensational  (I recall my own cousin showing me the "proper" way to kiss girls when I was roughly Ju's age), but an adventure of experimentation with no real meaning or feelings involved- a playful mischief – just as it appears to be for the film protagonist (much of the story is narrated from his point of view, although not in the first person).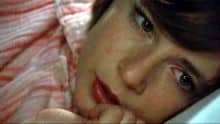 Nenè is unsure of what the best way is to attract and keep the attention of the older boy — who admits that she is beautiful, but adds than they "can`t survive only on kisses".
Many Coming-of-Age films, whose narratives are concerned with sexual awakening and first love, tend to present their narratives in an idealistic manner – where good is good and bad is bad, but love will finally prevail.   Unlike them, the rite-of-passage experiences of Nenè and Ju are handled in a true-to-life manner by Director Samperi. The characters are thoughtfully developed and I believe that viewers, regardless of their age or gender, would find it easy to associate with the young protagonists of the film.
The musical score by Francesco Guccini,  featuring piano and acoustic guitar solo tunes, contributes greatly towards the melancholic and nostalgic feeling of the film.
For a character-based film with no swift action or plot twists, Nenè is quite capable of capturing and holding the attention of its viewers for its entire duration (almost two hours).  While I have no concerns regarding the film's appropriateness for young viewers, I suspect that older people would be more capable of fully appreciating its sentimental nuances.
Recommended!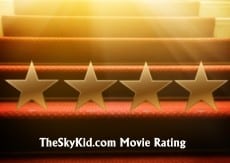 Film Title: Nenè
Also known as: Sweet Adolescents
Release year: 1977, San Francisco Film
Director: Salvatore Samperi
Cast: Alberto Cancemi, Sven Valsecchi,Vittoria Valsecchi,Paola Senatore,Tino Schirinzi,Rita Savagnone,Leonora Fani and others