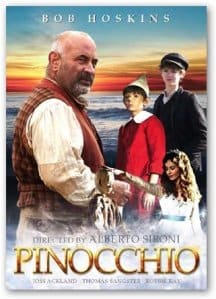 Fairly tales – how wonderful they can be . Pinocchio is a well known story all over the world. If I am to count the numbers of time I have read it – I won`t be able to – having in mind that I love also the Aleksey Tolstoy`s version Buratino's adventures. Which I happen to like even more. When I first saw the movie I was quite surprised – Pinocchio is the ultimate coming of age story and I was curious to see a new movie based on it. Moreover when I got the movie I did not even know who stars in it and was quite surprised ( pleasantly of course ) to see Thomas Sangster in the credits at the beginning of the film. Unfortunately it turned out that his role is a minor one and he is not the one in the role of Pinoccio – but then I am sure that all of his fans will be delighted to see him acting – and boy has he grown. He is also on the movie poster – which is not surprising as many would choose the story just because he stares in it .
Instead Pinocchio is played by the young Robbie Kay – who was unknown to me, but after watching Pinocchio, I can say for sure that I am going to be following his career. Robbie is very talented and fits perfectly in the role of Pinocchio. His facial expressions, voice and overall acting are sure to make an impression on everyone who sees the film. He has some experience in movies as he starred in "Fugitive Pieces" as the young Adam and in the TV production "My Boy Jack" and if you have seen those, you would remember him from there.
I am still unsure if Bob Hoskins was the best choice for the role of Geppetto. For some reason I can't associate him with fairy tales and as a matter of fact, I am also not fan of his performance in "Where Eskimos Live". ( which is the film I saw him in for a very first time ) Overall the casting, with exception of the minor role of Thomas Sangster and Robbie Kay, seemed quite odd to me. Yet that did not stop me from enjoying the movie. In fact I was glued to the screen realising how many, many of the things in the story can be applied directly to real life. ( To my life if you will, or yours ) I doubt that I was really able to understand that at the age of 6 or 7 when I must have read the book for a very first time.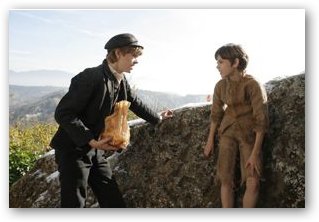 Oh I am not going into details about the story as I am sure you all are familiar with it. May be some of you don`t know much about Buratino, but everyone has heard of Pinocchio. I also did not quite like the way the story was presented. To me the director used rather odd characters and settings – modernistic maybe …now if I wanted a modern improved version of Pinocchio I would just watched "A.I." starring Haley Joel Osment which to me is the best interpretation of the story ever made. This version is also in English which was fine with me – but quite a few people think that for such a story, Italian with English Subtitles would have been a more appropriate choice. I can`t fully agree with that as it would have been much harder on the actors and would have affected the performance.
The whole movie is over 3 hours long which is typical for made for TV productions. Perhaps you remember the original of Entrusted. ( Starring Thomas Sangster as well ) The movie is quite enjoyable, you just have to ignore a few . . . weird things. Then maybe you would appreciate it more just for their acting. For example I am not fan of the movies produced by Tim Burton, while many other people liked them. So its up to you, but I recommend that you see this movie. No matter how old you are I am sure that you will find something in it of value . . . something special, just for you.