I'm surprised this film has not been reviewed on theSkyKid.com yet. I guess I'm the first to do so. :)
Super 8 follows the story of five kids, growing up in a small town in 1979. Joe (Joel Courtney), our main protagonist, has lost his mother in a tragic accident and is learning to deal with the aftermath of this situation. His best friend, Charles (Riley Griffiths) is obsessed with film-making and is making his first Super 8 film, a zombie film. (For those of you who don't know, Super 8 Cameras were massive back in the late 60's through to the late 80's, the reasoning for the name 'Super 8′ is because the cameras used 8mm film stocks). Joe has been assigned as special make-up and sound on Charles' film. Along with these two on the crew is Carey (Ryan Lee), Martin (Gabriel Basso), Preston (Zach Mills) and Alice (Elle Fanning). When the kids witness a train crash while shooting a scene for their film, their lives and the lives of everyone in their small town are turned upside down, and an adventure of grand proportions begins.
Super 8 is a fantastic film, and a great example of the true essence of a Coming-of-Age film. The ensemble of kids were absolutely brilliant. JJ Abrams (Director) took a huge risk with this cast, as both Joel Courtney and Riley Griffiths had never acted in anything before. They were both newcomers and taking that risk, especially with your main character, is huge. But it most certainly paid off as they were both fantastic. The expressions of Joel Courtney were so natural and his delivery of dialogue was never out of context, which I think is a great example of the work Abrams put into his cast.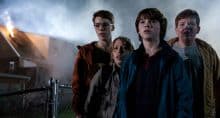 The story itself is evidentially a homage to classic Spielberg films from the 70's and 80's. A lot of the themes, locations and cinematography choices are similar to that of Spielberg's films, and the filmmakers here do not deny it.  In fact, Spielberg was even a producer on this film, so it is deliberately using these ideas.
The development of the characters and the progression (flow) of the story is sublime. You are instantly taken into this world and the situations of these kids and when the events really start to expand, it's hard not to be completely immersed within the environment. I think the way JJ has captured the sheer essence of innocence, and that gap between being a child and becoming a teenager, is a real credit to him as a filmmaker. He has identified this moment in time so well and placed it in an era that rang true to himself and represents this innocence so well. The fact that this is intertwined with a large element of sci-fi and suspense, with a town being terrorized by – not the creature (that escaped the train) itself per-se, but the forces that are trying to capture it – works so well.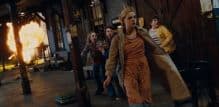 I really loved the feeling of the small town and the end of the decade of the 70's era. It's little things like the kids singing songs from that era, their dialogue being from that era, to large amounts of work like the set dress of cars and the costume design of the main characters, as well as the enormous amount of extras. I just love this era so much and the Super8mm camera being such a prominent prop in the film I found worked so nicely.
Super 8 is a fantastic film, which any Coming-of-Age genre fan will love. There are many things within this film that combine so well with the story that it's hard to find something you don't like.
 httpv://www.youtube.com/watch?v=vpzUCA5i6zY
Highly Recommended