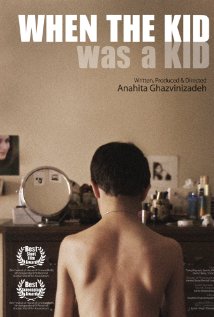 After seeing Mohsen Makhmalbaf's film The Silence, I was impressed by the expressionism of the Iranian cinema and I yearned to discover yet another Coming-of-Age film from that area of the world to watch and review.  Fortunately, child-centered Iranian films are in abundance:  The White Balloon (1995), Children of Heaven (1997), and The Color of Paradise (1999) are just a few of the many movies focused on childhood produced in that country.
Today I am going to review Anahita Ghazvinizadeh's short film entitled When the Kid was a Kid. The narrative of the film explores a few of the dimensions of the adult world in Iranian society by offering an intimate portrayal of  the experiences of a 10-year-old boy named Taha.  The movie boldly addresses issues such as gender identification, the importance of family, and the role of women and parenthood – all perceived from the view point of a young child.
The cinematography of When the Kid was a Kid impresses with a skillful and frequent usage of extreme close-ups, most notably in the first scenes when the young boy is putting on a wig, dress and make-up so that he can become like his mother for a game the kids of his apartment flat play. Those scenes bring to mind the 1997 Belgian drama Ma vie en rose (My Life in Pink) and the more recent 2011 film Tomboy. The cross-dressing in them may be uncomfortable for some viewers and surprise others who would not be expecting such a degree of expressionism produced in a country wildly known for its political and religious conservatism.
The question of why would a boy choose to dress as his mother rather than his father soon becomes clear – he probably never knew his dad. Through the conversations of the kids during their pretend game of adulthood, the viewer manages to learn more about Taha's mother, their mother-son relationship and the decisions and sacrifices she has to make to raise a son on her own.
The realizations about Taha's life and his mother are not just reserved for the viewer, but also himself – which results in a powerful closing that further engages the viewer with Taha's fate by stressing his helplessness.  The Kid Was a Kid won various awards at Iranian film festivals in 2011 and 2012.
Watch When the Kid was a Kid: 
Editor's Note: Fans of the Coming-of-Age genre might want to note that Director Anahita Ghazvinizadeh has also written and directed two other films that can also be characterized as Coming-of-Age: Soog (2011) and Needle (2013).