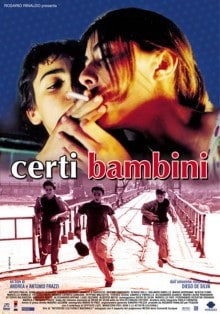 "… mistakes can also be a remedy, if one has guts…"
I have grown up with the Italian Mafia themed series The Octopus (La Piovra) and know that for crime drama one can't go wrong by choosing an Italian film. A Children's Story (Italian: Certi bambini) promises a tension filled narrative with Coming-of-Age nuances – and it lives up to that promise.
Based on the novel by Diego De Silva,  Andrea and Antonio Frazzi's 2004 film tells the story of 11-year-old Rosario. His parents are dead and though he has a grandmother to live with, she is old and sick, so the boy ends up taking care of her — not the other way around.
Life is tough: Rosario has left school and joined a band of street-wise kids who do odd-jobs and commit petty crimes. The gang is led by an elderly man (an Italian "Fagin" if one is to reference the infamous novel by English author Charles Dickens).
One of the best features of A Children's Story is its ingenious editing, which challenges the common perception of time using involuntary memories (cues encountered in everyday life that evoke recollections of the past) to tie the story together. One has to watch the film to its end to fully appreciate this approach (it gets even better on a subsequent viewing). Flashbacks and effective transitioning between events of the past and present are used — both to develop Rosario's character and to structure the narration.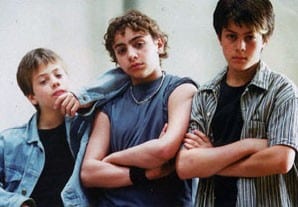 Fans of the Coming-of-Age genre won't be disappointed, as Rosario's initiation into adulthood is a central motif of the film. The confusion that the viewer may sometimes experience is correlated to Rosario's own confusion — he often has to make choices and is unprepared for the possible outcomes, or decides to simply disregard them.
Rosario is seen thoughout the film being mentored by a young guy whose identity is revealed in the final scenes. Manhood and toughness seem to be emphasized by all the life lessons offered to him.
"…When one threatens you, and gives you explanations why, do not be afraid — that one is a fool. He who really wants to hurt you does not explain…"
Thanks to excellent character development and the above average acting performance by Gianluca Di Gennaro as Rossario,  identifcation with his character is easily achieved. We have all shared some of his experiences: falling in love, having a desire to belong, fear and confusion and, last but not least, an urge to exact revenge.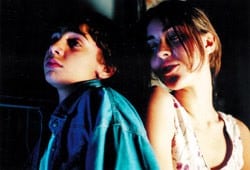 A Children's Story features quite a few controversial scenes, many of which may shock the more conservative viewers of the film. The sexual curiosity of youth is portrayed in the style of Giuseppe Tornatore's Malena (2000). The crimes committed by the youthful gang brings to mind those in Pixote (1981) or the 1995 Canadian made-for-TV film Little Criminals. The portrayal of these things result in an excellent approach to storytelling that combines both a Coming-of-Age story and social commentary (just like in another film set in Naples  Pianese Nunzio, 14 anni a maggio ).
Young people often put their life at risk. Thinking back, it's a miracle I'm alive to write this review after all the bravery trials and mindless adventures of my own childhood. Observing the dangerous game the kids play during the film's opening scene is guaranteed to speed up your pulse.
The ending of the film does not disappoint and it actually challenges the viewer to watch the film again and reflect on what he has just seen.
Recommended!
Scenes from A Children's Story
Film title: Certi bambini
Also known as: A Children's Story
Release year: 2004
Directors: Andrea Frazzi, Antonio Frazzi
Cast: Gianluca Di Gennaro, Carmine Recano, Arturo Paglia, Sergio Solli, Rolando Ravello, Mario Giordano and others
.