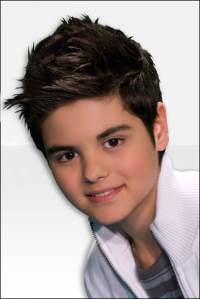 Ever since we published an interview with the Spanish musical prodigy Abraham Mateo, I haven't stopped following his career and this little youngster has never ceased to amaze me with his incredible talent, vocal abilities and presence. When he sings – I feel the music, feel its message.  For me, this results in a unique listening experience. As he matures, his voice gets even stronger and his ability to cover the songs of others ever better.
A few days ago, Abraham presented the world with a video clip in which he covers the classic Italian song Adagio, originally performed by Lara Fabian. You have heard Abraham singing in Spanish, you have heard him singing in English – and now he delivers this song in Italian with such emotion that it's guaranteed to get to your heart.
Listen to the song Adagio – but beware!  It's a powerful performance:
[toggle state="closed" title="Lyrics of Adagio in English"] I don't know where to find you
I don't know how to reach you
I hear your voice in the wind
I feel you under my skin
Within my heart and my soul
I wait for you
Adagio
All of these nights without you
All of my dreams surround you
I see and I touch your face
I fall into your embrace
When the time is right, I know
You'll be in my arms
Adagio
I close my eyes and I find a way
No need for me to pray
I've walked so far
I've fought so hard
Nothing more to explain
I know all that remains
Is a piano that plays
If you know where to find me
If you know how to reach me
Before this light fades away
Before I run out of faith
Be the only man to say
That you'll hear my heart
That you'll give your life
Forever you stay
Don't let this light fade away, no, no, no, no
Don't let me run out of faith
Be the only man to say
That you believe
Make me believe
You won't let go
Adagïo [/toggle]
Abraham is currently working on his second studio album, which is expected to be released sometime in 2011. He is blessed with the love and support of people from across the globe. The devotion of his fans in Spain, Mexico, Argentina, Peru, France, Costa Rica and Venezuela are guaranteeing him a bright feature under the spotlight. He is only twelve – yet well on his way to becoming a legend.